Seeking color/style advice for landscape blocks
Here's my dilemma...
I've done some landscaping in the past, but it has always been on standard color homes/buildings where it was easy to pick block color(s). With this current project, I'm having a hard time picking a style/color of block because the house is red with brown trim and a tan roof. Any ideas would be greatly appreciated!
After re-grading the dirt a bit, I'm planning to start just to the right of the basement window and radius out from the house, run along the house (roughly 3' out), radius around the corner, and continue (with that rough 3' measurement) 'til it butts up and stops against the side of the entry way; the top of the wall will stop right under the bottom of the siding and this whole planter will be filled with river rock (and plants/shrubs in the spring). I've attached a pic to help visualize.
I've attached a link to a block I've considered, but in the 9" wide version (due to limited area and limited height of wall). In real life, it looks to be similar in color to the tan/brown roof color. Should that even be an option, or should I look at something completely different like a flagstone style of wall? The inside of the house is more of a cabin feel and I'd like to stick with more of a rough type of look rather than a sleek/modern look if possible.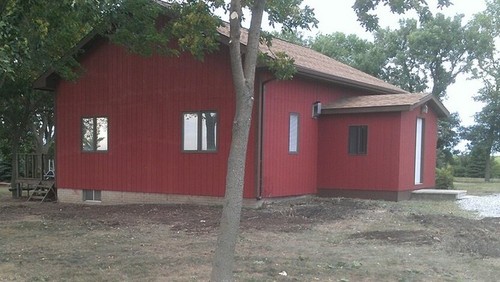 Here is a link that might be useful: Link to block being considered.