First Orchid Buds - Gritty Mix!
jodik_gw
December 16, 2011
Several years ago, a dear friend sent me a very small Dendrobium Keiki, which I thought for certain would have met its demise by now. My indoor environment simply isn't conducive to orchid growing, being as dry as it is.
But, I decided to try anyway, and I potted it in a tiny clay pot using a very gritty rendition of "Gritty Mix". It has not only survived, it has thrived! It sits in an east facing window, and has popped out growth after growth. I've had to re-pot it once already to a larger pot, this one an opaque plastic that won't hold any cold in winter, as clay tends to do, and I'll be able to see root growth.
As I was watering the other day, I noticed something very surprising, and very thrilling... buds! My little Dendrobium has buds! It's going to bloom for the very first time!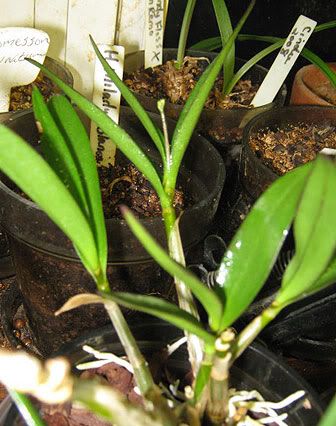 The flowers should be a shade of purple, though I have no idea how light or dark. I'm just excited to see buds! And I just wanted to share this bit of excitement with everyone!
Happy Growing!