Need Help with Broken Concrete Walkway Design
I submitted this question in the Gardening with Stone forum. I haven't received a response yet so I thought I would try submitting it here too. Sorry for being impatient but my husand is in a hurry to finish it.
I would like advice on installing walkways using broken concrete. We live in the high desert of southern California. We will be seeding a Kentucky Bluegrass lawn and need to put in walkways in the traffic areas. We would like grass to grow between the pieces of concrete as seen in this photo.
Our yard has been roto-tilled and my husband cut some pathways to see how the walkways would look. This is how it looks right now.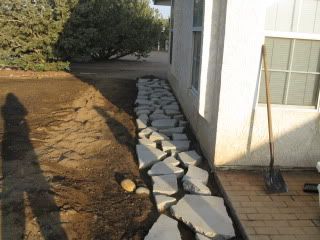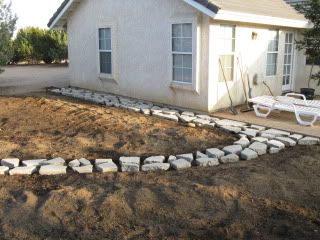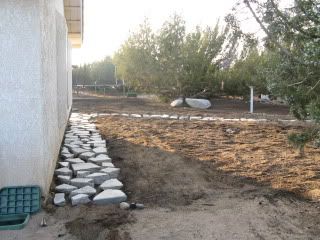 The walkway that comes across the middle of the yard is only two stones wide. I think it should be wider to make it less likely that people (kids) will walk on the grass. I also wonder if it should be a little straighter. My husband thinks that the area is too small for a wider walkway. He says it would look odd.
For the walkway across the back of the house, I would prefer to leave at least a foot of space between the house and the walkway for plants. I think it would be difficult to mow and trim the grass if it grew right up to the house. It also seems to me that it would look better to have plants between the stucco and the concrete walkway. We would really appreciate some opinions on the best design for this project as neither my husband nor I have much landscaping experience. (We need to make some quick decisions as we are running out of time to seed this lawn before cold weather sets in.)
Our soil is sandy clay. Do we need to set the concrete pieces in sand or will the dirt suffice? Would it be appropriate to set the concrete about ¾"above the ground? Our goal is to be able to walk across the walkway without stumbling while leaving enough space for the grass to grow between the pieces of concrete without being trampled. We would be grateful to anyone who can offer insight. Thanks