Front Yard Landscaping (opinions please)!
kimberlysc
(z7 SC)
October 18, 2011
Hello all,
This past May we had Zoysia sod put down. We figured we would have enough to deal with by watering sod that we saved the landscaping for another day. I have attached a picture of our home and a landscaper gave us ideas but I would really like other opinions. First I would like to share that the front of the house gets shade in the morning and sun in the afternoon. It gets very hot in the afternoon.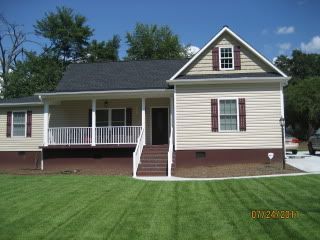 The recommendations we received.
On the very far left bed in the back we were to have 3 Camellia Cleopatras. In front of the Camelias would be Abelia (4 of these) over to the right in the back would be 3 Otto Luyken, to the right of the Otto Luykens the front right corner would be 3 Harbor Dwarf Nandinas.
To the bed to the far right where lightpole is:
At the very back 3 Otto Luykens, in front ot the 3 Otto Luykens would be 4 Gulfstream Nandinas, in front of Nandinas we would be Leriope on edge of bed.
Any opinions? I love Camelias but wouldn't they get too high blocking the windows?
By looking at the colors of the house would these colors compliment the house?
I like hostas, crape myrtles, rhododendrums, azaleas, but was told it gets way too hot for these.