Newbie Needs help with front yard landscaping :)
Greetings- I found this site not long ago and I really like what I see! I've been referred here from the Home Decorating section. I'm looking for some advice on what to do with my landscaping. From the pictures, it's a small, 1950's brick ranch. I plan on changing the trim color to a cream instead of the yellow and removing the enclosed entry. This is my first house and I'm a late 20s male who lives alone so design is not my forte :)
I'm in Maryland so it's winter time now, I have to plan for the spring time. I had just removed a bunch of overgrown bushes and started demolishing the sidewalk (it's being heaved up by the tree roots).
A few questions-
1) What do you think of that huge maple tree in the middle? Is it too big for the house? Or does it add character. On the other forum seems like most say to keep it, while a few say it's outlived its usefulness and to remove it. It is on the south side of the house and in the summer it does provide a generous amount of shade. There are 2 other trees about the same age and size in the left of that picture in the side yard.
2) Any suggestions on a curving path around the tree? I have a picture below of what I think I may do.
3) Any suggestions on what to plant in front of the house? Also, what species would work best to hide that air conditioning unit without growing into this enormous bush.
All suggestions are welcome :)
A few shots:
Currently with no bushes (yes I know I have to wash the brick and hide the trash cans)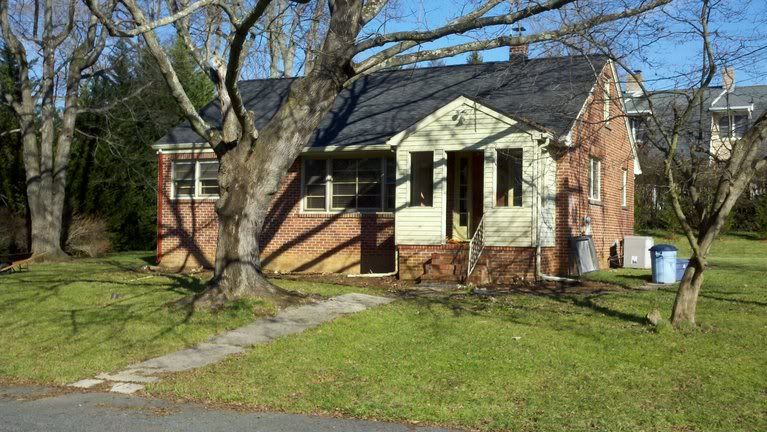 Started demolishing sidewalk- heaved by roots.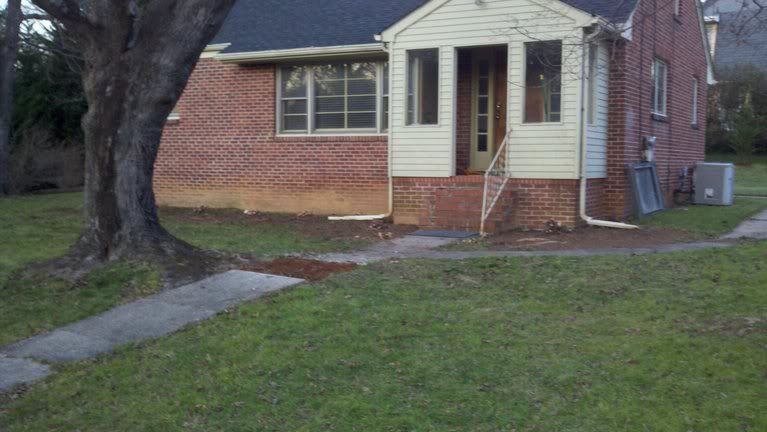 Before shot- with overgrown bushes and an idea of a curved path: