Kraienkoppes
Fancifowl, I whole heartedly agree with your comments in the "Raising poultry is now Hip" thread. I decided Id start a new thread, since I keep gravitating to Kraienkoppes and Velvet_sparrow mentioned sheÂd like to discuss them more.
I'm shooting for at least 100 new chicks each year and am culling more strictly than ever. This year we may actually hatch closer to 200. But we can make some drastic culls right at hatching. It took me a couple of years to really catch on to what you're saying. One in four is too lax. The Kraienkoppe that I have, at any rate, has too many areas which need lots of selection and work, not to breed them in this manner.
Velvet_sparrow, I will post. Just need time to get my thoughts together. To many times in the past I've spoken (or written) to soon and communicated wrongly ; )
I have some Silver Kraienkoppe pullets on order now, and have no previous experience with the silver version. So I can't tell you what the chicks should look like. The Black Breasted Red ideally should be chipmunk striped and have a flat comb. Legs should be yellow, though often white legs (a flaw) will show up after the passing of time. In my hatches I have yellow/orange, white and chipmunk striped chicks appear. All the chipmunks turn out as good black breasted reds. Some of the white chicks will grow up to cinnamons, some may actually turn out white, as we have a recessive white gene in the flock. It appears that the yellow/orange chicks are wheaten, though I'm not sure whether some might not turn out as cinnamons; haven't separated them to observe.
IÂll post more soon; things like breed description and my observations on what needs to be done in selection. IÂd love input from some of you more experienced folk.
In the mean time here are a couple of pictures. I need to get some better ones. But this variety really is tough. You point a camera at them, and they flee. Plus when I look at my pictures from a few years ago I think that most of them would be culls now.
George
Kraienkoppe Cockerel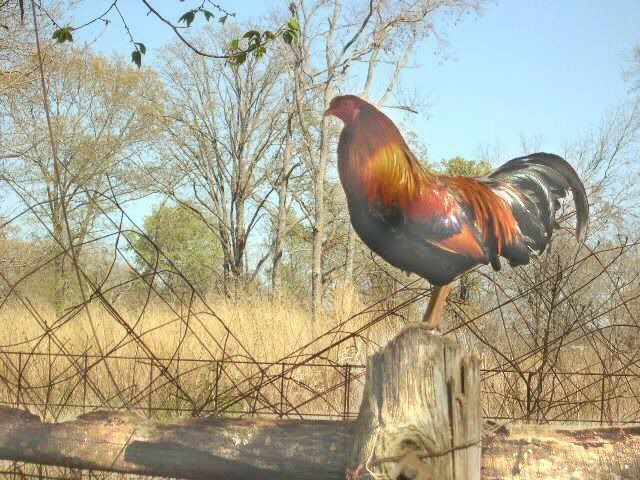 Kraienkoppe hens in nest box