What is getting my zucchini? Fungus?
I'm a pretty new gardener, so bear with me! I went out this morning and found my zucchini wilted and dying. It looked fine 2 days ago. It looks like there is some sort of yellowish-orange stuff on the main vein. What is it and did this kill the plant? I have a straighneck squash next to this that looks like it has the stuff on it and a few leaves are dying.
This is what the plant looks like this morning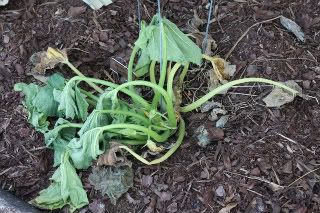 Here is the main vein
HEre is what is on the squash next to it
And here is a leaf on the squash. There are two leaves like this and I'm afraid the squash is headed in the direction of the zucchini.