2 steps foreward, 1 step back.
I recently bought a house with zero landscaping, and I had zero gardening ability to match.
Lucky for me I found this forum and have spent hours on this site researching plants, pests and everything else under the sun. I want to thank you all for helping me ID plants, and answer my basic gardening questions.
A few weeks ago I was so darn proud of all my hard work I decided to write a post thanking all the gardeners out there and to post pictures of my success. The problem I have found though, is weird stuff keeps happening to my plants to damage them! Not insects, but people and their thoughtlessness. So I kept waiting for my damaged plants to recover before taking pictures of my beautiful spaces, only to have another incident and another damaged plant.
So I give up!! Instead of having this be a post full of beautiful plants, I am chronicling the good, the bad and the ugly. Lucky for me I seem to be moving forward with my gardening, but man! Things would be so much easier if "stuff" would stop interfering with my plants.
Anyways:
To start, it is the front of my house that I am so proud of. This is how the front yard looked when I bought it: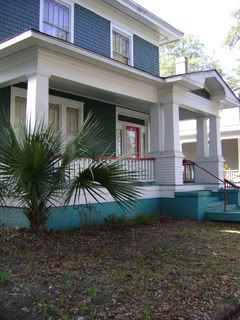 Then I added liriope and mondo grass as a bed border, and incorporated the two (then) unidentified shrubs that came with the house.
This is a pic of one of the two bushes that I inherited with the house. They were so scraggly and sad looking when I started the garden that I decided to just toss them and put in healthy looking plants in their place. Well, even though I was ignoring the two shrubs while I was building the flower bed, the two plants started greening up and getting their life back over the last few months. (It might be the fertilizer the other plants were getting, and the regular watering.) So when one shrub started forming BUDS!, I posted pictures on this website requesting to know what kind of shrub this is. You all told me they are White Gumpo Azelea and now they both are beginning to bloom! I love them, and plan on keeping them now.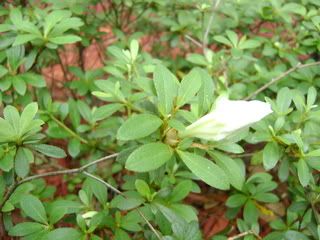 And this is it now! (I have since painted the foundation and steps too.) I started adding plants that I liked, with no real gameplan to follow, and might be on my way to a cottage garden effect. I'm not sure yet. I still have a lot of ideas to try out.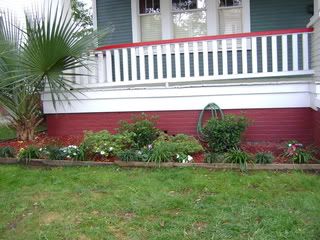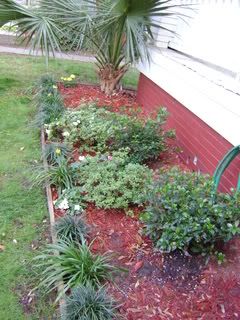 My flower bed was recently damaged by our roofers. Just yesterday our roofers placed a "protective" tarp over the bed and the weight of the tarp broke all my Gerber daisies :( . I don't have a "before" picture but I assure you those daisies were BEAUTIFUL!!
The dark bushes in back are August Beauty Gardenias. I purchased them BEFORE I learned they are notoriously hard to keep alive. So far (fingers crossed) mine are A-OK. One has 3 blooms!
My FAVORITE little bed is my Kalanchoe bed. These little guys were growing so well and they were no trouble at all. They brightened up my walkway.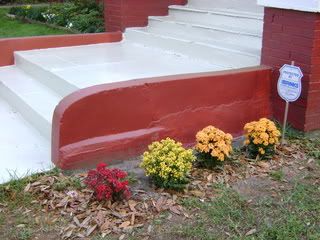 Until a dog started chasing a cat last night and the two dashed in and out of my beautiful bushes, breaking off several big branches and crushing a whole half of one plant! I tried to do damage control but my heart sinks when I see this: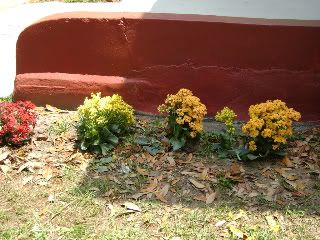 (Dog and Cat are both fine.)I tried to stick a big broken branch in the ground to see if it will re-root. Doubtful.
Also greeting everyone as they walk by are my BEAUTIFUL planters. A few plants have died in them, but I have found a few guys that are thriving.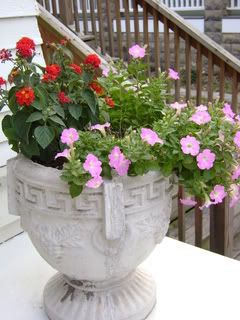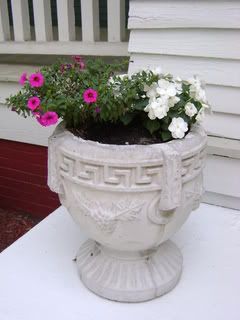 And my hanging basket. I never knew this, but my favorite flower is the Tiny Petunia. (So far). I love them!!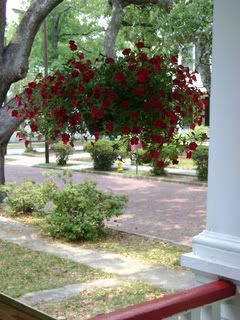 On each side of my house is a Hosta bed. So I have two Hosta beds. I love Hostas for their variety and fullness. Sadly, a log I placed as a bed border to protect my Hostas was moved ONTO the Hosta leaves. Damage was not too bad, but I dont know WHO did that!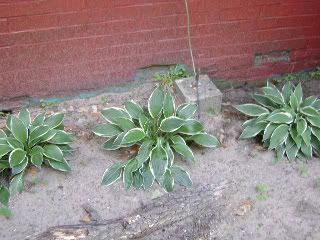 My second Hosta bed was growing beautifully, but one of our roofers tossed a brick down and crushed one of my Hostas!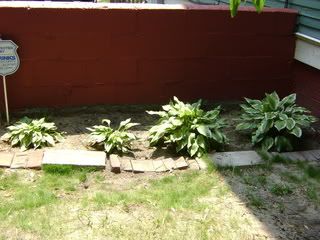 Here is the crushed little guy: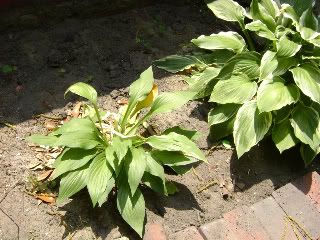 Now for the back of the house, I have cleared off the chain link fence of weeds, and am growing 4 stalks of Confederate Jasmine. So far they are still pretty small.
And another one: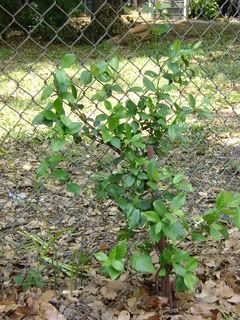 And for my back deck, I have planted two Mandevilla vines. I am hoping they will take over the deck fencing and leave me with beautiful red and white flowers every year. Sadly, a roofer (again the roofers!) broke off a big stem but my red one seems un-bothered.So far they are pretty small and testing my patience. (grow! faster!)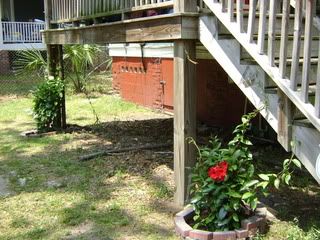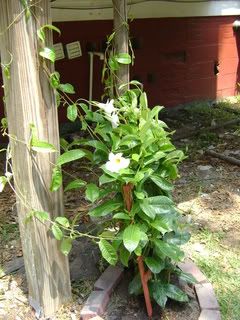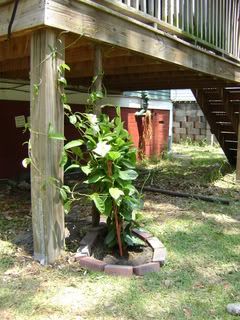 That is it for now. I just wanted to thank everyone for all their suggestions. (And so do the plants!) You have been a big help.