HAVE: Heirloom Tomato Seeds
EricaBraun
(9b)
July 25, 2014
These seeds are super fresh. They have all been harvested and dried within the last month. I will also have more varieties available as others ripen. I'm looking to trade for other edibles and herbs, particularly things on my "want" list, however I will consider all offers.
PURPLE HEIRLOOM: Pictured below is an heirloom, purple NoID that I recently bought from a produce stand, because I loved it's shape and color. It was 1lb9oz and super yum.
I also have 3 others heirlooms from my garden:
HOMESTEAD: An heirloom dating from 1954. Developed especially for hot climates and known to reliably set fruit at high temperatures. Also does well in humid climates. Very productive. Great for both fresh eating and canning. Tomatoes average 7oz. 80 days. Determinate: 4-6 feet tall.
PRINCIPE BORGHESE: Italian heirloom famous for sun drying. Small grape-shaped fruit are dry with few seeds. Rich tomato taste that is wonderful for sauces. These tomatoes produce early and abundantly.
Both of those have been extremely productive, despite California's unrelenting heat this year.
GRANNY CANTRELL: Kentucky Family Heirloom. This tomato won a Best of Taste award in 2006 from over 100 entries. Regular-leaf, indeterminate plants yield large, 1-2 pound, slightly-flattened, pink tomatoes. Very meaty with few seeds. Delicious tomato for eating fresh, cooking or canning. A great sandwich tomato. Definitely one of my favorites!
If you're interested in a trade, please let me know!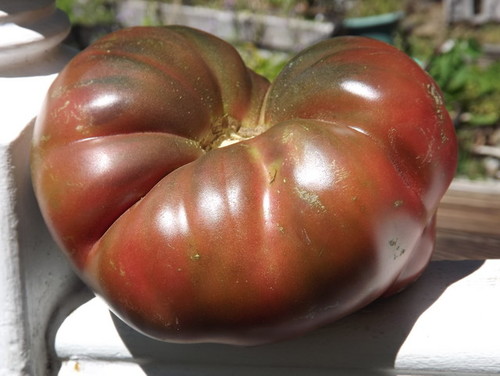 This post was edited by EricaBraun on Sun, Jul 27, 14 at 4:40