my garden
Hi all, here's a mini-tour of my garden which is very much a work in progress. Although new to gardening, I belong to the third generation of my family to have ambitions for this piece of land, which was entirely bare apart from one elm tree when my grandparents first aqcuired it in 1953. After they moved in, the elm promptly died. We have 'difficult' soil here, apparently.
First up is the view coming into the property. The rusty grate in the foreground is an old cattle-grid of which I am rather fond, mostly because it proves we really are properly out in the sticks here.
I am less fond of these 1960s fiberglass sculptures on my front lawn, but other members of my family love them. Perhaps some lichen-frosted boulders half buried in the grass would soften the effect?
Here is what you see when peeping round the west side of the house into the back garden. Our lawns were in a terrible state even before the current drought browned them - weedy, mossy, thistly - just horrible to tread barefoot. At some point I'm going to dig them out, recess and flatten the main one, and start over with new turf. I also want to try out some non-grass lawns over low-utility areas, the goal being an extremely plush, pillowy effect.
Veggies!!
This next pic illustrates a potentially huge project. The pool, even when full, is an eyesore that does not integrate with the rest of the garden. I want to break up its rectangular outline with some wooden decking and rockery - accommodating a BBQ terrace - and turn the whole thing into a swimming pond. This will require ingenious planting, partitioning and plumbing, as I am just now finding out.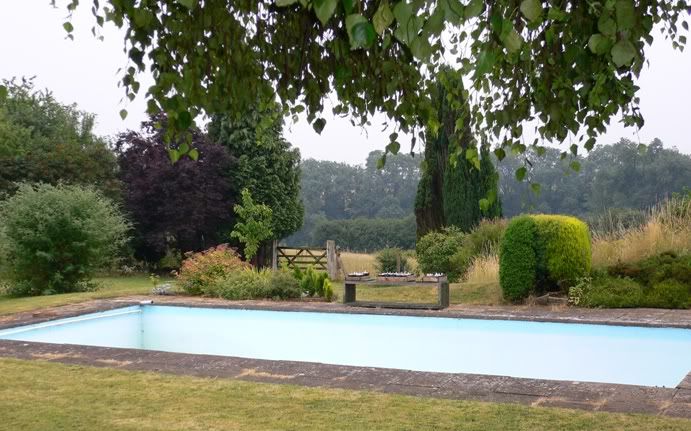 There's a monster lurking in this photo - a Himilayan Blackberry thicket on the edge of my property, spreading silently yet relentlessly. Both its roots and thorns dig very deep. But despite the blood, despite the blisters, I know this is a war I will win.
I. Will. Win.
That's all for now, I'll save the other nooks and crannies for another time! Any suggestions/feedback most welcome, I am still very new to horticulture and landscape stuff. Having a lot of fun so far!
mits x