Help identifying and caring for a Dracaena species
veegardens
(8b)
January 29, 2013
Hi. I decided to get a really nice house plant, that probably cost way too much. But I LOVE my new plant.
I was searching around for information on how to care for the plant, prune it, and start new plants from cuttings.
1) IDENTIFY: I'm unable to identify
- I think it was mislabeled at the nursery. The tag (and receipt) call it a
. That seems to be a mispelling of Steudereii. However, pictures of Steuderii don't look like my plant. It looks more like massagaena (corn plant). Please help so I can continue with my googling OCD over this plant.
2. PRUNING: Next, the nursery told me that when I prune it, I should just cut the tops off and new branches will grow (see
, where it looks like a bud is sticking out of the stem). Seemed simple enough. Then I get home and I'm looking at these stems... I'd have to SAW them off.
A) Is it correct to just saw the tops off?
B) If so, do I have to treat the opening with anything?
3. CUTTINGS: And of course, I'd love to start new plants from cuttings. However... this plant does have cute little stem cuttings like other plants. Any advice is appreciated.
4. ANYTHING ELSE? Lastly... If anyone has info on this plant, like how it grows (it appears the green leafy stems turn into hard trunks?), or anything to feed my obsession about taking care of this plant, I'd appreciate it.
Thanks. I'm new to caring for house plants. I have growing tomatoes and herbs down, but not a plant like this!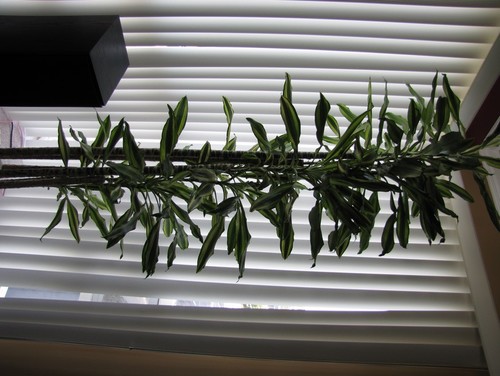 This post was edited by veegardens on Tue, Jan 29, 13 at 18:29