Distinguishing these Two Aroids
pirate_girl
(Zone7 NYC)
January 2, 2014
Hi Folks,
Recently we've seen both these plants online. I'd like to get clear on their names pls. if we can. I may be opening a Hornet's Nest (or maybe should I just ask at Aroid Forum)?
I hope to share several pix, since I'm growing both, but let's start here.
Can you see that the lower 2 leaves are a different plant than the upper 2 leaves?
I'll be looking around for better pix, but wanted to start the discussion.
I know the upper leaves to be Epipremnum scindapsis (or scandens). I don't know the name of lower leafed plants.
Here's another of the upper leaves.
Another of the other.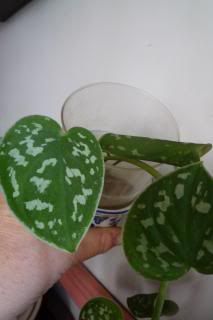 Any takers? What do you think?