I didn't really NEED another dracaena.......
elkay_gw
February 10, 2013
since I have a lot of warneckiis and a marginata, but I saw this one in Lowe's and couldn't resist. It was marked down from $10.97 to $3 and was very dry. There were two others, but they contained only one plant and this one had three. It had quite a few browned leaf tips, but I figured for three bucks, I'll give it a shot.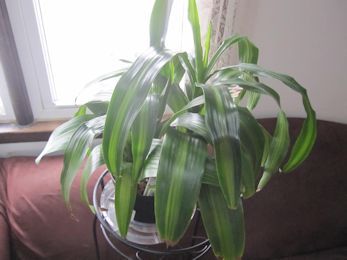 AND.............remember that thread about which of your plants you dislike? Well, I don't really dislike any of my plants, but I think THIS one is ugly. I posted about it a while back - can't figure out why it's growing so weirdly. It's a Dracaena Sol, or Sol Cane or Del Sol - have seen it called all three and the pics don't look like mine. The leaves should be a normal dracaena fragrans shape. Strange looking, isn't it?