Confirming spider plant?
chaparralgirl
(Sonoran Desert (CA))
February 3, 2012
Hi all,
I normally hang out in the Cacti & Succulent Forum, but today I found I need y'all's help.
I'm taking a botany class *eeeeeeee!* (that's a squeal of delight) and I have to document the growth of a plant of my choice. I was originally going to do some succulents (I do have a bit of a fetish), but all of my cuttings are already underway in their growth, and I had wanted to start without roots.
Last night, hubby and I were in a local home and garden store, and while I was admiring some of the hanging houseplants I noticed a piece had broken off of one. I was allowed to take it, and I've since put it in a vase of distilled water, and have decided to use it for my growth documentation project.
Thing is, I don't know what it is. I didn't think to look at the parent plant (which is kind of a huge "DUH") or the label on the pot (although half the time the labels aren't correct anyway). I've done some Googling, and it looks like a baby from a common Spider Plant. But I want to be sure, since I have to include the scientific name in the report. Here's what my little bitty looks like:
Here are a few close-ups: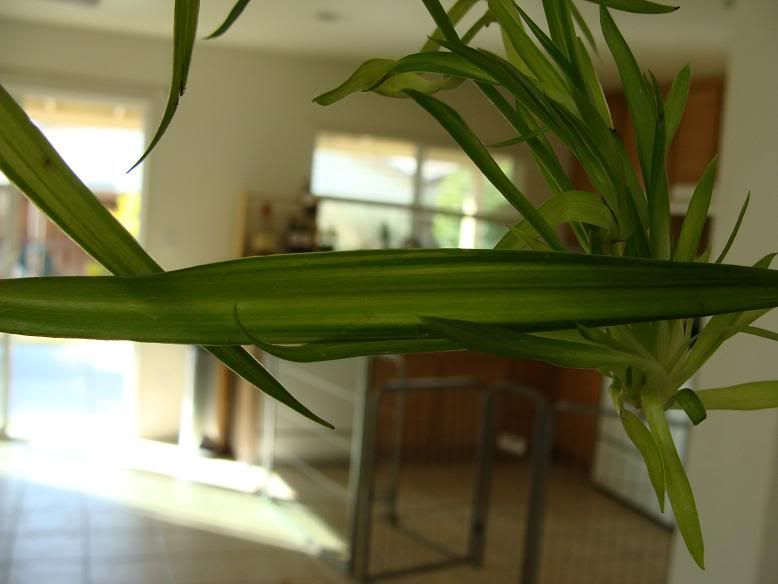 Am I safe going with Chlorophytum comosum? Does this look like a variegated C. comosum to any of you? Is it a cultivar? Is it perhaps a different species?
I appreciate any help you can offer. Thanks so much!
*CG*