New Fiddle Leaf Fig, should I repot/root prune???
Shostakovich33
February 11, 2014
I'm new to the world of Fiddle Leaf Figs, and after reading as much as possible, I would like a clear answer about my personal fig. I found this 6-7ft fig on sale, but I was immediately concerned about the roots before purchase. The lady helping me shop assured me that they like having their roots compact. I'm here for a second opinion, and asking if I should root prune/repot the fig.
I purchased my fig two days ago and would ultimately like to repot/limit substantial growth, if possible. The health of the tree is my number one concern, so I would like to resolve the issue and confirm I am doing everything correctly ASAP, even if it grows larger than I want.
Right now the fig is sitting about 4ft from a second floor / West facing window which gets pretty good light throughout the day. I plan on misting the leaves moderately since my apt is covered in carpet, and the air can get pretty dry during the winter with the heat on. I've also read to water sparingly and never before the top inch of soil feels dry to the touch.
Attached are pictures of the roots which are coming out of the top of the pot. I wanted to root prune and move the fig to a planter which is an inch smaller in diameter around the top. If this is a no go, I still wanted to ask if I should consider root pruning since I have not seen other examples with roots like mine? I could also move it to a slightly larger pot if necessary.
Thanks a ton in advance for any and all help. I'm already a little obsessed with my tree and want to make sure things go smoothly throughout ownership.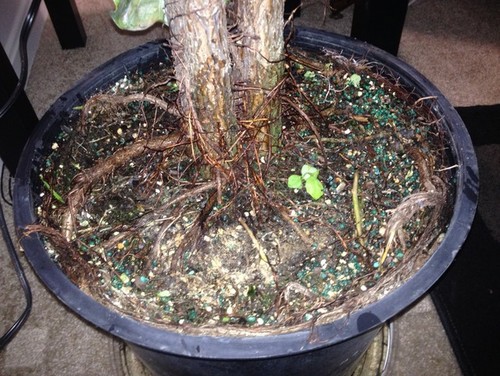 This post was edited by Shostakovich33 on Tue, Feb 11, 14 at 21:44