'Spider Plant' baby producing its own... baby?
plantomaniac08
(8)
March 4, 2014
I recently purchased a Chlorophytum comosum 'Green Bonnie' from a local BBS.
I just noticed this morning that one of the "babies" appears to be producing its own baby. How weird is that? It's rather difficult to photograph, but the "baby" that I have my fingers placed behind is the "Momma baby(?)" and you can see the little shoot with attached baby coming from it.
It appears that the rest of the stem that this "Momma baby" was growing on was cut, so I'm wondering if this isn't the baby that was growing on the end of the stem (I've had some 'Spider Plants' before that produce numerous babies up and down one stem).
I'm not sure that makes a difference at all, but perhaps by the stem being cut, it has forced this baby to produce a baby of its own (just a guess).
Planto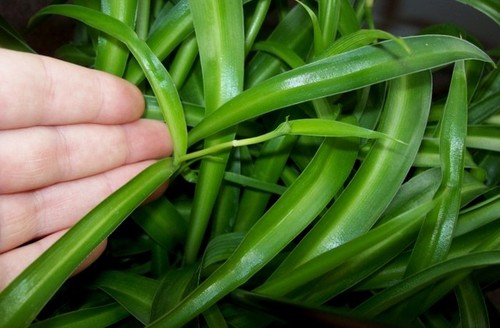 This post was edited by plantomaniac08 on Tue, Mar 4, 14 at 11:45