An Aglaonema I'd Never Seen Before
pirate_girl
(Zone7 NYC)
March 20, 2013
Hi Folks,
I found this at a local BBS & grabbed it quickly, was the only one. I haven't seen it before. I've had it about a month & it seems very vigorous & easy.
It came w/ an accurate tag, w/ proper ID (Aglaonema White Lance), care instructions & notification it's a patented plant for which propagation is prohibited (including patent #). I was going to share it w/ my local plant society, now I wonder, tho' maybe I can GIVE it to them.
Anyway, it's a nice plant so far. I like these very elongated leaves, & the color contrast of the light green leaf center & dark green borders.
It turned out that there were 4 separate plants in the pot & I separated one for me, keeping these other 3 potted together 'til I give them away.
Here's the one I kept for myself.
Pretty cool to me, turns out to be a great deal, $12 for the pot or $3 for the one I've kept.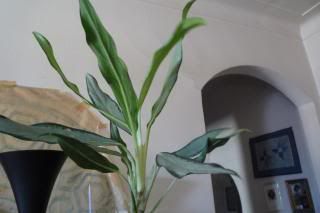 Has anybody seen this before? Any ideas on my sharing it free w/ the group? TIA.
Karen