Snake Plant - Over Watered, Under Watered, or What?
Hello GardenWeb forum!
I'd like to preface this post by apologizing if I wrote to too much. If you think you can get a good idea of what's wrong just by looking at the pictures, that's fine, but please let me know.
PICTURES:
http://s1275.beta.photobucket.com/user/Trevor119/library/Snake%20plant%20-%20Pictures%20from%20this%20morning
--
About 10-12 days ago, I watered my snake plant from the first time in a while I'm not sure how long. Maybe a couple months. My understanding is that snake plants don't need much water in the winter.
2-3 days later, so of the leaves on my plant were drooping down, yellowing, and I think there was a smell. After doing some googling, I determined that i must have over watered them, and so that night I decided to put a hair dryer on medium heat and low speed and I held it a couple feet from the soil and blew at it for a while, from a few different angles (horrible idea?). I also used some stuff to hold up the drooped leaves.
The next night, a realized that I hadn't really given my plant any natural light in a while, so I figured that was probably part of the problem, so I placed the plant near a window, and I also decided to do the hair dryer thing again.
A couple days later, it was looking worse, and one of the leaves had fallen over and was dying.
The next night (or possibly the same night) I cut off that leaf, as well as another one next to it that looked pretty hopeless. Both leaves were cut around an inch from the soil.
The next day I added a very small amount of 3/4 coffee and 1/4 water.
The next night, one of the big leaves had basically collapsed from the middle and the lower part of the leaf was kind of brown and crinkly-looking I read that when the plant falls over in this manner, it comes from UNDER watering (perhaps the hair dryer dried it too much?). I added a VERY small amount of water to he dirt around that leave, and put cardboard behind the leaf to hold it up.
This morning, the same thing happened with another big leaf on the opposite side of the pot, so I put a long metal thing behind it to hold it up.
At this point I think the problem might be under watering, but of course I am hesitant to water it because the opposite problem might be the case.
I took a few pictures. If anybody can take a look and tell me what might be the problem, I would be very grateful.
----
PICTURES:
http://s1275.beta.photobucket.com/user/Trevor119/library/Snake%20plant%20-%20Pictures%20from%20this%20morning
----
PS: The round brown object sitting on the soil is just an avocado pit that I was using to hold things up.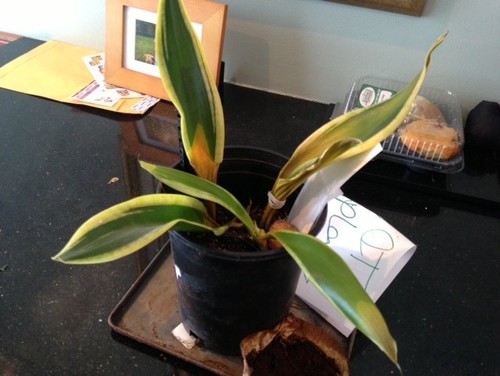 Here is a link that might be useful: PICTURES