Dragon Tree slowly dying?
Hey there. I have had a Dracaena Marginata for about 10 months. The first 7- 8 months it was doing great. Lots of new growth for the slow-growing dragon tree. Then I realized I needed to water more often and the roots were visible through the drainage holes. I also began to lose lower leaves - they yellowed and then fell off. So I opted to repot. When I pulled the plant out of its previous pot the roots were thick and coiled at the bottom and the soil was bone dry. Repotting looked to be the right call.
I used a similar mix of Black Gold soil and sand and transitioned to a pot that is about 1.5 inches bigger than the previous pot. I gently uncoiled the roots and cut one of the longer roots back a tad. I also removed some of the top soil. Based on online research I have begun to use distilled water to avoid any issues with fluoride. Our water contains fluoride in this area; although for the first 8 months I used the tap water and all appeared well.
Since repotting, I am losing leaves at an alarming rate - and not just the lower leaves. They seems to develop one or two dark spots, and then yellow and die. The plant just looks sad. I can't seem to figure out what's going on. All the research I've done indicates I'm doing the right things. The plant has been in front of a southwest facing window since I purchased it, and that seemed to be working well. I only water when the leaves droop and the top two inches of soil is completely dry (roughly once per week). Perhaps the transplantation was traumatic? Or could it be a pest? I don't see anything to indicate its been infested.
This seems like a great place for help so I thought I'd reach out and see if anyone has any suggestions or information. I hope I'm posting in the correct area. Thanks very much.
Sorry about the image - I can't figure out how to rotate it. I should also add, the reason I think it looks "sad" and may be dying is because even the new growth on top looks limp, thin, and lighter in color than it did previously. Not sure if you can see that in the image, but I can post another if necessary.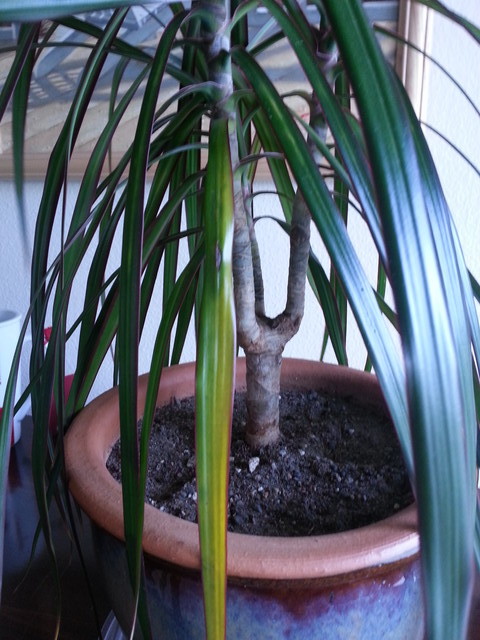 This post was edited by Maedragon on Tue, Apr 29, 14 at 22:06