Another Avacado Seed Question
Oops, just realized I posted in Houseplants. My avacados will be outside. Can someone move this? Not sure how to delete and repost.
About 9 months ago I gave the avocado "Toothpick Method" a try. I set up about 6 seeds and just waited for what seemed like forever. Eventually roots took and I waited for a sprout. Then that happened. A couple months ago I transplanted and they're still kicking. This is simply amazing for me as I can kill anything if given the chance. They now sit on the north side of my house as seen in the pics. This side is now in the shade, but summers coming and the sun will soon be in that part of my yard. They're doing great, but I'm wondering what havoc the sun will bring.
I only water when the soil gets a bit dry and planted in a Miracle Grow potting mix.
What's my next step to sucseed (intentional pun, hehe)? Fertilizer? Light? Larger pots?
Pruning? If so, which leaves and how?
One last question, I've read in several places that avocado trees produced by seeds won't fruit? Is this always true? Just doesn't sound natural.
Thanks for any suggestions,
Tony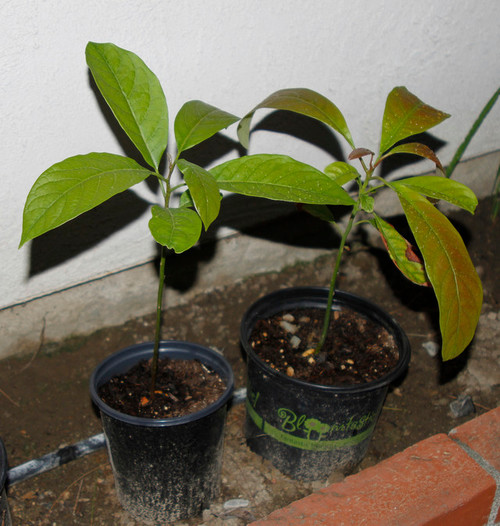 This post was edited by gynot on Sat, Apr 6, 13 at 22:50