trying to 'beautify' fema lots in our small town new hartford ia
jeannespines
April 18, 2012
To my GJer friends...
Some of us older folks (retired they call it) are trying to do 'volunteer' work & establish community gardens & such in our small town of New Hartford, IA after the 500-yr flood of 2008 & a tornado (losing 2 lives) in that couple weeks.
Lots of people were able to rebuild but 23 lots are now FEMA lots where families had no choice but to move on...no one can ever build on these lots & we are trying to 'beautify' them.
Anyway, we were selected to participate in a nationwide contest to win a free fruit orchard, complete w/ irrigation, sponsored by Edy's fruit bars & the Fruit Tree Planting Foundation. Our theme is HELP US HELP OTHERS!
We can only WIN by ONLINE voting once-a-day & we are shooting to be 1 of 5 winners on May 30th. I wonder if any of you would consider voting online each day for us! We are currently in 3rd place ...
You just register an email address & chose a password for yourself so you can vote 1X daily...any number of votes will help us out! The link is below ... our zip code is 50660 if you want to use that when you vote or you can look on the map list...New Hartford FEMA Lot Restoration ...New Hartford, IA.
Thank you so much! Jeannespines
This is the FEMA lot where we want the orchard...just 2 blocks from our Elementary School...pictured are some of the kids & volunteers: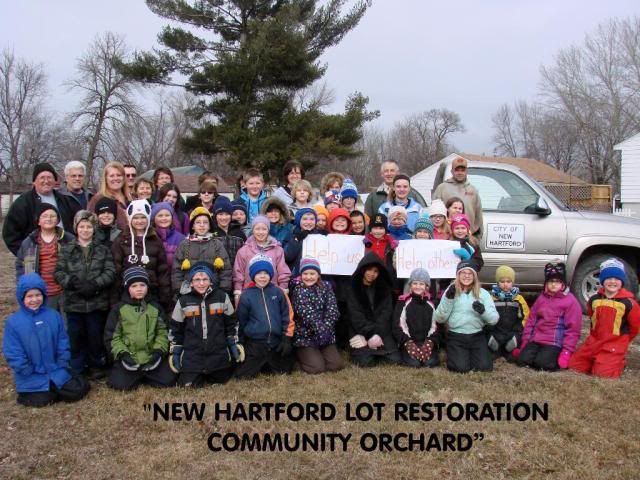 Here is a link that might be useful: Communities Take Root!