Pachira (Money Tree) - Spring re-potting pics
greenman28 NorCal 7b/8a
May 24, 2010
Good evening, everyone!
I came home this afternoon to find that my Pachira had been knocked over by the wind.
Since I've been meaning to re-pot the tree for several weeks, I took the opportunity today.
I was delighted to see the thickness of the main root...which I'll be exposing a little at a time.
The mix is bark, pumice, and perlite - a dose of Osmocote, and a dash of wood ash.
I hope these images are helpful to the Pachira enthusiasts out there!
My Pachira, grown from a single leaf:
1.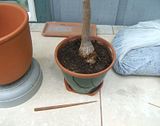 I'm embarrassed to show you these roots...what neglect!
2.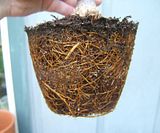 At least there was a nice fat root waiting for me in there....
If you can't tell, I tore off a good amount of roots and blasted away the soil:
3.
Root-ball - mostly perlite and pea gravel remaining....
4.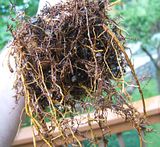 The new mix:
5.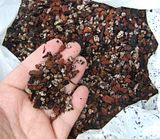 Carefully re-potting, using a chop-stick to fill all the spaces betwixt the roots....
6.
Watering the new mix thoroughly:
7.
Full view of my Pachira:
8.
Large, healthy foliage grown this Spring:
9.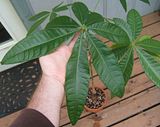 And the old soil - pea gravel mixed with bonsai potting soil. If not for this durable mix,
I don't think I could have let the Pachira go so long without re-potting. Thanks again to Al,
who set me on the path to soil-less container media.
10.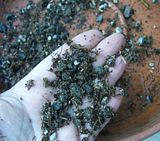 Josh