Ficus Lyratas in need of growth and health
KariAptGarden
May 29, 2014
Hello!
I apologize in advance for the lengthy post, but the more info I give, the less you have to guess!
After having my Ficus Lyratas for 7 months, I have scoured for information on helping them thrive in my apartment. This website (especially Al's wealth of endless knowledge) has the absolute most comprehensive information on these beauties. So I am writing in hopes of getting some customized input to help them be as happy and healthy as possible after some hiccups (pretty please!). I will try to do my best in organizing my list of questions.
Firstly, some background. I live in Miami. I purchased them at IKEA (photo included) back in late October 2013.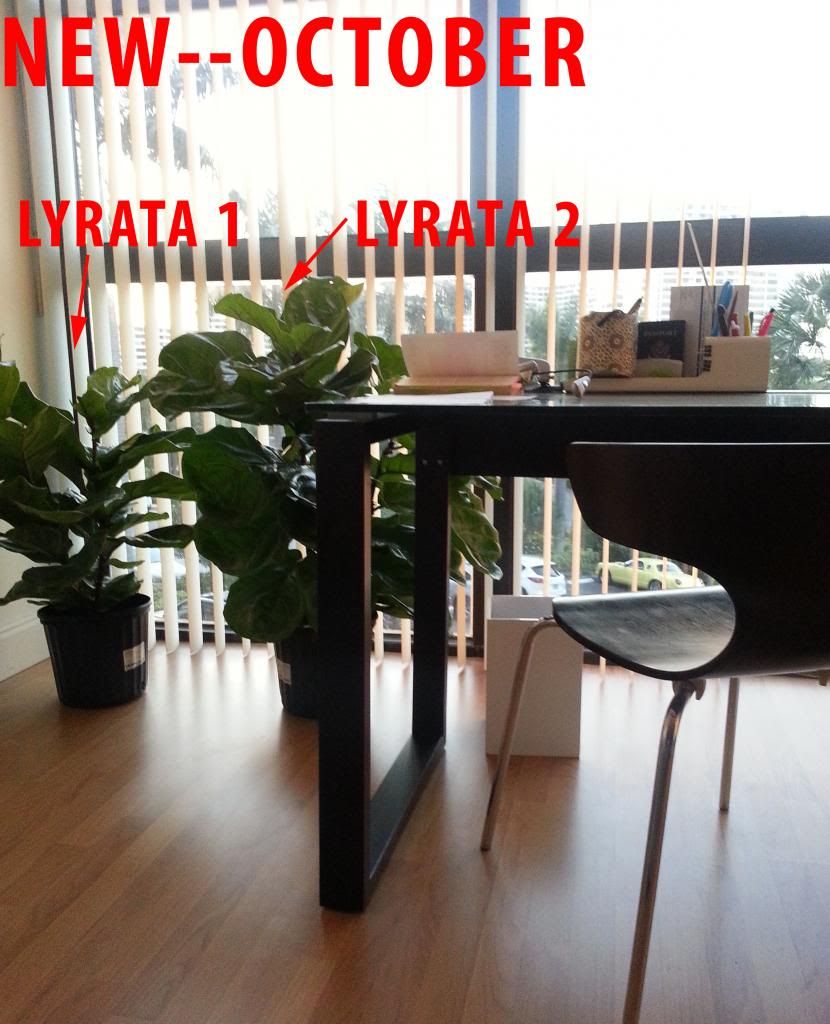 After a month, they were absolutely weak and droopy, as I noticed they would not take water; after A LOT of research, I discovered that the soil was hydrophobic. I sunk them in a bucket with some dishwashing soap overnight and they revived (I could practically hear them gasping for air!)! (Photo included).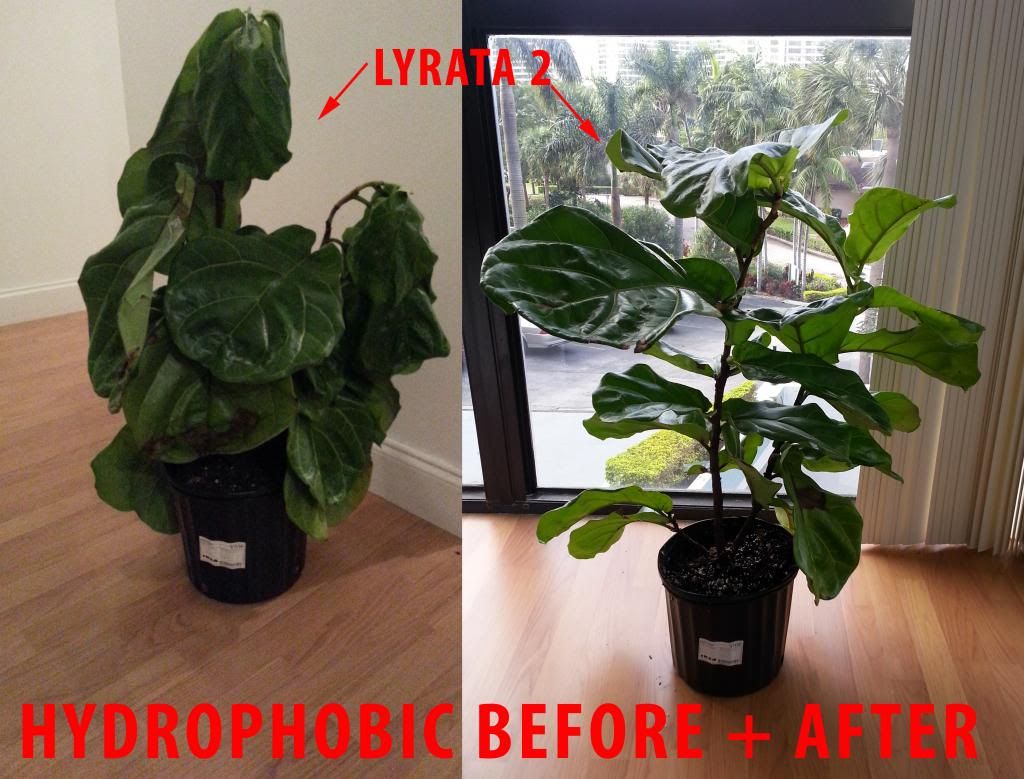 Since then, I have watered them by sinking them in a bucket until almost no air bubbles come up, and they seem to like it (although after each soak, a bottom leaf routinely falls off, so something must be off...). If I try to water normally, the plants don't seem to be absorbing any of it...
A couple of months ago, we moved. They have survived the move (thank goodness!), but I am constantly worrying about them! We only have North-Easternly facing windows, and they are right by our floor-to-ceiling ones where they get light all day long, with direct sunlight in the morning, until 10:30 AM max. (See pic).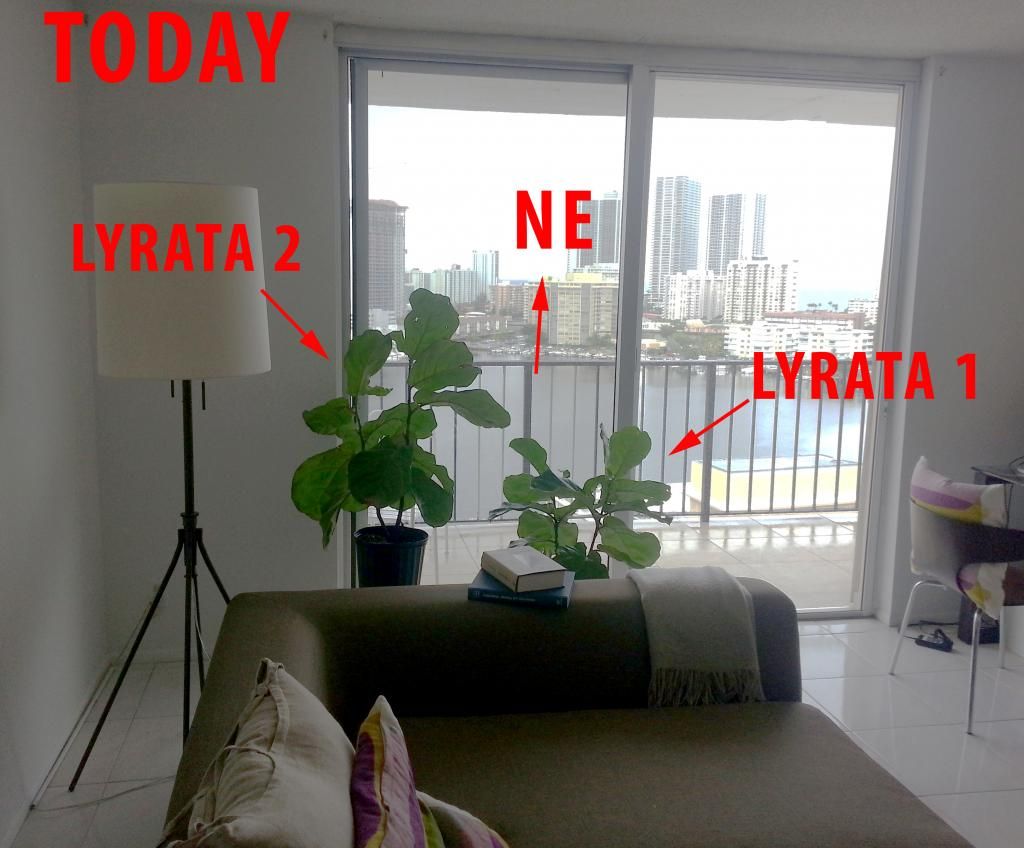 I try to mist the leaves every day to keep the moisture up, since we are in an air-conditioned environment (I also open the window for about an hour every day to let fresh air in). Some leaves fall off once in a while, others develop brown spots and/or holes, and they don't display the perkiness/uprightness these plants are known to have (especially towards the bottom).
I re-potted one of them last week, but recently realized I did not make the best choice of potting soil after going through Al's dissertation (love it!), and lazily having used MG Moisture control.
Here are my questions:
1. I would really love for them to grow a lot taller at the trunk and bushier at the top. After a lot of reading, it seems like placing them outdoors for the summer seems like the favorite option for growth, BUT: I live on the 16th floor, which gets a lot of ocean breeze (sometimes even a bit chilly), and I am two blocks away from the ocean (salt in air?). Also, we get A LOT of torrential downpours in Miami during the summer. Do these factors eliminate the option of placing them outside for the summer?
2. To re-pot these specific plants, (with the purpose of root health=happy and thriving growth), do you recommend the gritty mix or the 5:1:1 mix?
3. What does it mean when the buds at the top are not green but brown and dry? (see photo)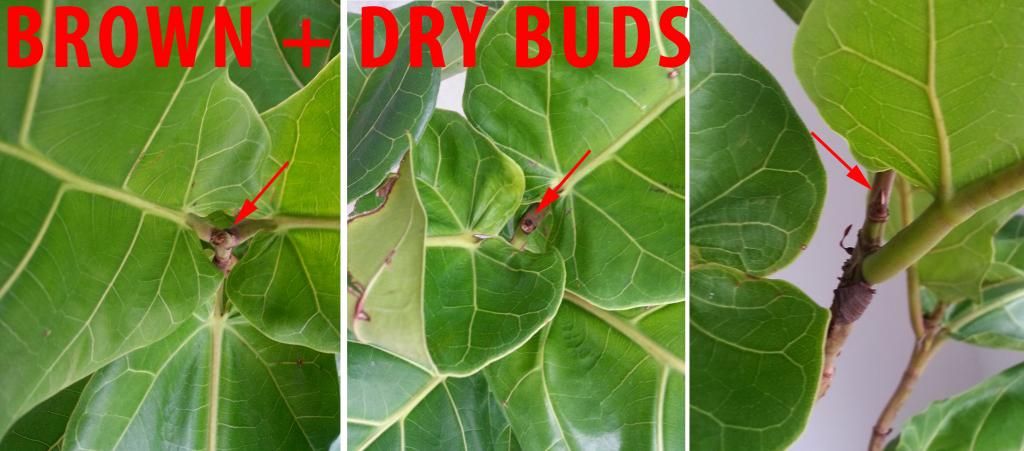 4. What does it mean when the main trunk/stem is brown all the way to the leaves instead of greening towards the top?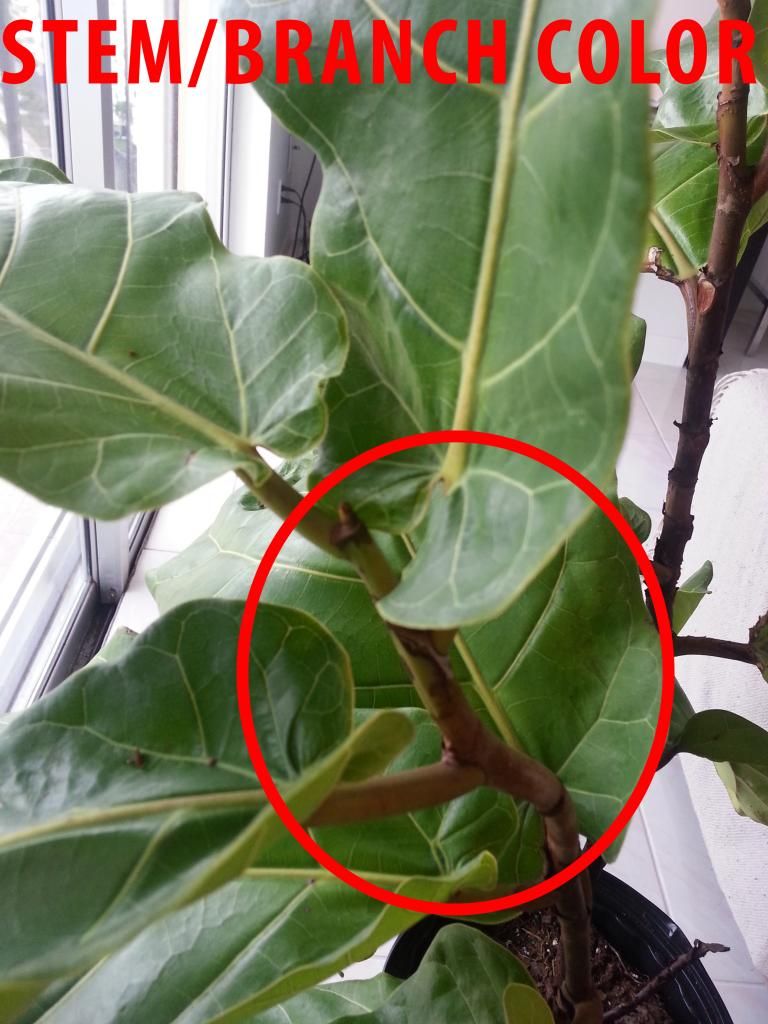 5. Is it normal for some leaves to be so heavy that they break from the stem and hang more limply?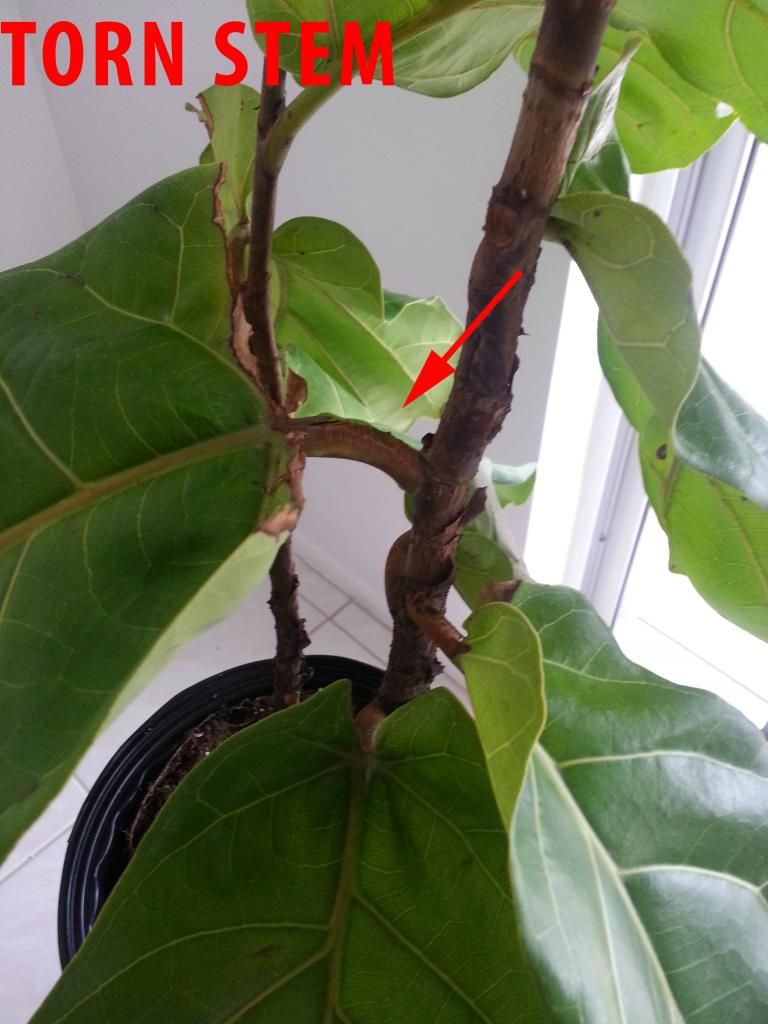 6. If my plant grows during this summer, will the main trunk below the "Y" at the bottom emerge from the soil and make the tree grow taller? How can I make this happen?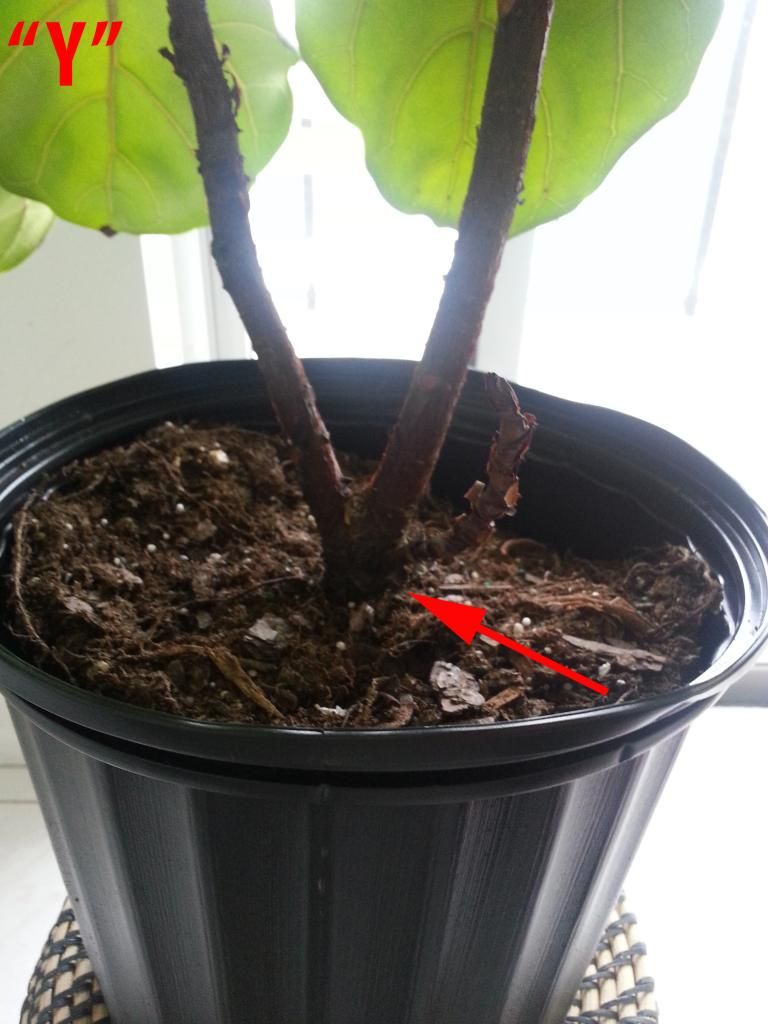 6. Do my plants seem sickly in any way from the way they look?
7. Once I re-pot them with more well-draining soil mixture, how often and how much (considering all factors and size) do I need to water them?
8. Any other input/advice?
A couple more pics: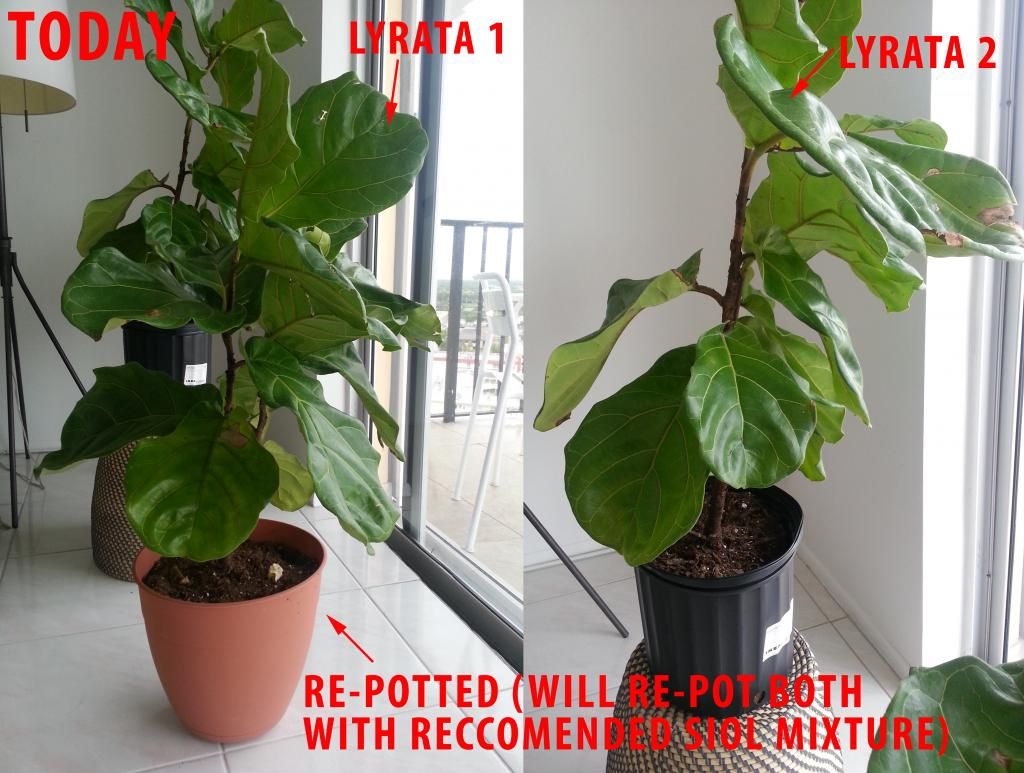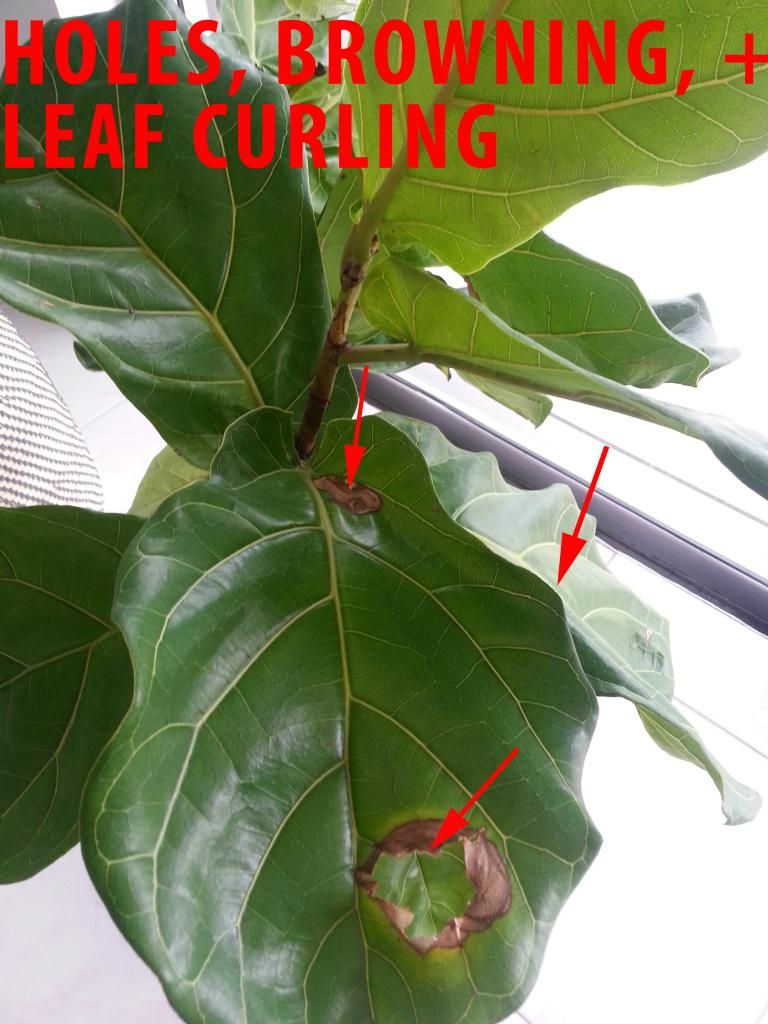 Thank so much in advance!
Waiting patiently,
Karina