Another Barnwood Bloom & Birdhouse for my Gardens
jeannespines
January 8, 2012
DH & I have been able to work in the shop the last few days (good weather here)....I finished up another 'Barnwood Bloom' (for myself) today to add to my gardens in the Spring! And also I had saved a pic of a birdhouse & DH built it for me w/old barnwood. I kept the natural color & polyurethaned it & added the iron star...I love it!
Here's the BW Bloom: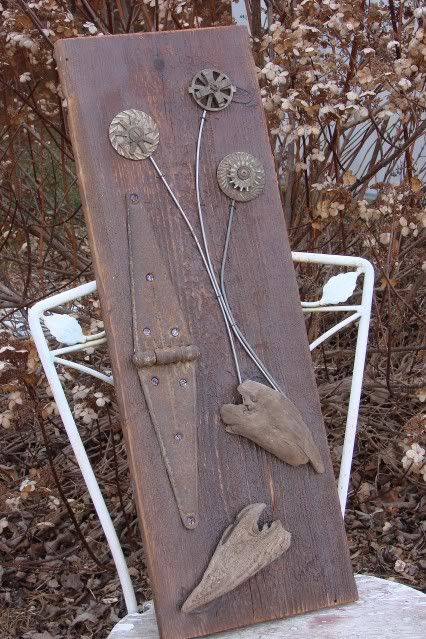 The flowers are made of 'grinder' blades & anything I find while TS'ing ... I layered each flower & DH drilled in the screws for me. I added some salvaged leftovers for stems (one is from an patio umbrella spoke).
Close-up of the flowers:
I also had used 'poly' on the old barnwood to bring out it's beauty! Added the rusty hinge just because I loved it! And a couple pcs of driftwood for more bling! Here it is on my porch w/new barnwood birdhouse:
Here's the birdhouse on my potting table (40's deg today so took a pic out there...it will end up in my garden shed garden, I think):
But for now, it's finding a home on my porch table!
DH also has been working on a couple condos...one I left natural barnwood & the other one I painted w/red barn fence paint: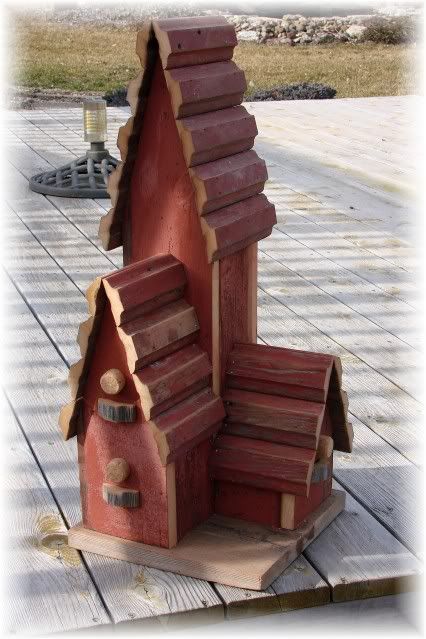 I don't know how long we've had our condo on a big post outside ...but it sure weathers good! (between 10-15 yrs at least) ...LOVE old barnwood!
TFlookin'! Jeanne S.