Little dracaena marginata with browning lower leaves
Hi there! I'm a brand-new poster and a total beginner at taking care of houseplants. I received a little dracaena marginata as a housewarming gift about seven months ago, and I'm afraid that the lower leaves are dying faster than the new growth on top can keep up with.
I've read several other posts on these here, and it seems like most people with this problem figure out that it's due to not enough light, overwatering, powdery mildew, etc. I'm at a loss because my plant sits in a south-facing greenhouse window, I only water it when the soil is completely dried out and/or the leaves start to droop, and I don't see any signs of pests or illness. It's in a plastic pot with plenty of holes in the bottom, and I always water it in the sink and let it drain for quite a while. It never sits in standing water.
I'm gathering that it's fairly normal for the bottom leaves to turn yellow/brown, right? It seems pretty healthy other than that one issue. I'm just concerned because it's a small plant, and I lose a leaf or two on a weekly basis. I'm not sure the new growth can keep up with it. It was MUCH fuller when I first received it.
Sorry about the sideways photo ... I'm not sure how to fix it. I've included a link to more photos of the plant.
Thanks in advance for any advice!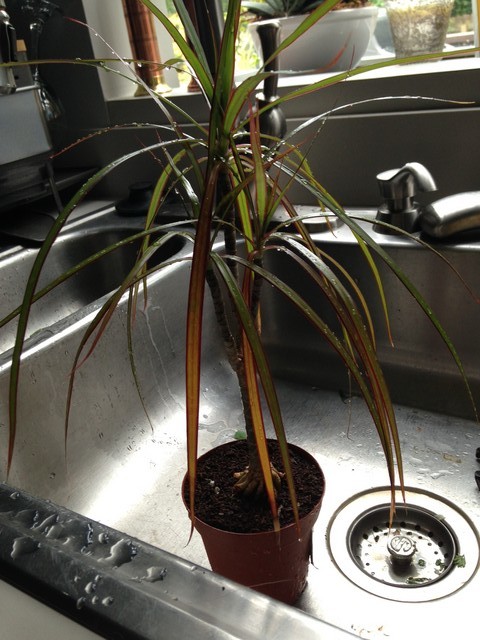 Here is a link that might be useful: Photos of my dracaena marginata