Example
Since I was in a hurry I didn't let the paint dry between stages. I will wait for an hour or so and coat this mushroom with polyurethane. This project was completed in about 45 minutes.
1. Starting with an older mushroom made of a cement and perlite mix.
2. I started by spray painting with a light green paint.
3. A few areas were painted with a second shade of green
4. Cracks and crevasse were painted with yellow acrylic paint
5. Before the yellow could dry I whiped the mushroom with a damp cloth
6. The first coat of transparent stain
7. Although out of focus I added a little glitter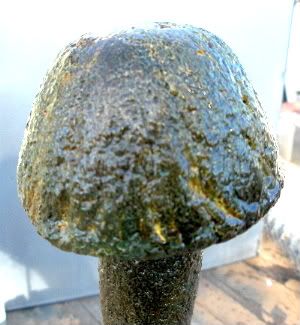 8. Second coat of transparent stain
9. Finished