Green-less Garden Junk in the Snowy Weather (pic heavy)
jeannespines
January 23, 2012
I love garden junk ...& now I can only enjoy gardening outdoors with my camera. So today was a warmer snowy day & I got outside!
Here's that bright 'red' sun near the door arbor garden!
It was cast iron when I got it & I spray-painted it for a pop of color!
Nearby is Gr'pa's Rake garden...I've shared pics of this w/you all ...Autumn Clematis is the last thing to bloom here plus Mint...looks pretty darn good today, too!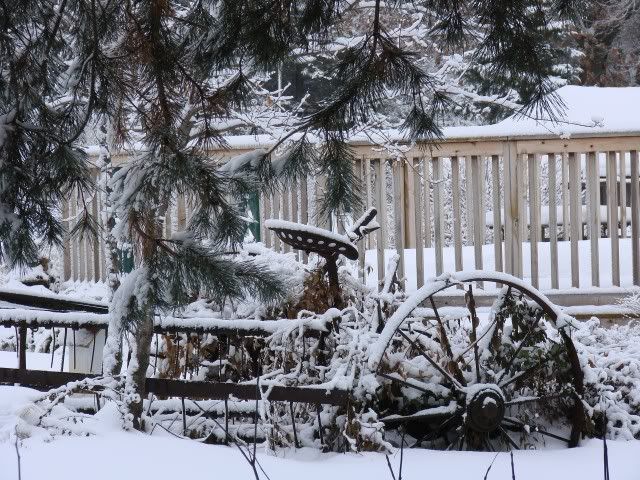 Headed out into my Secret Garden in the Pines ...here's that old Celestial Barwood Door:
Isn't it gorgeous w/the snow cover! Heavy wet snow 2" additional snow this morning.
Remember the whiskey barrel bands 'Sphere' I just shared recently...well, it hasn't been rolled around any yet! LOL!
Walking a little further into the woods & this this birdhouse pops out w/it's red colors on a big old stump ...near another old farm mower blade shown in this pic:
Nearby I couldn't miss my GJ blue bottle fence! It looks so pretty in the white snow!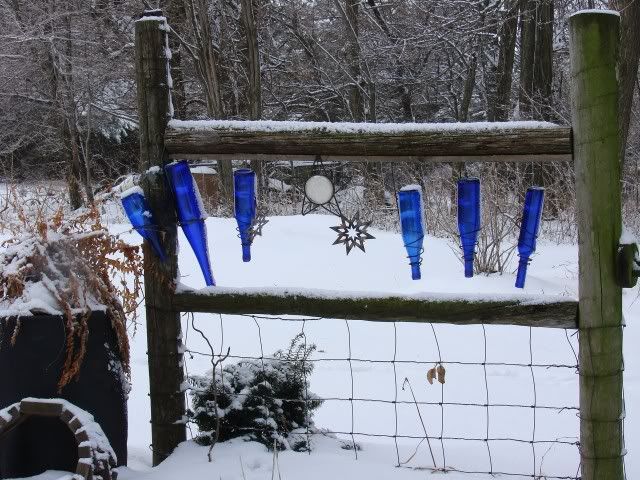 Look how they shine up close!
OK, any of you 'painters,' out there...here's a Winter project for ya ...here's my old window painted & gifted by a good friend ...this is the 3rd or maybe 4th yr out now...loved how it looked w/the snow!
Close-up: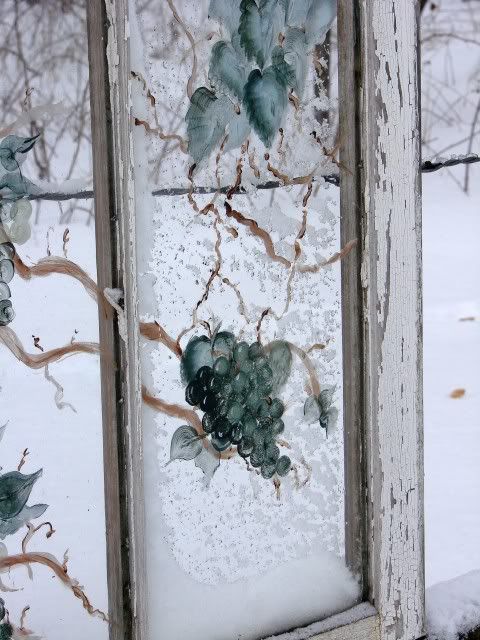 Hope you enjoyed seeing my 'old' GJ ....in the snowy Winter! TFLookin'! Jeanne S.