This ever happen to you?
marquest
(z5 PA)
February 22, 2012
Glass broke before you got out of the store?
I have seen so many beautiful blue totems here and I wanted one. So I have been in search of blue glass. I have not seen many blue items. Yesterday I found 3 beautiful glasses. As I put them in the cart I was so happy. The isle are so tight in my GW that two carts cannot get down the isle. So someone has to back up.
Well I saw a lady coming very fast toward me....I started backing up she seemed to speed up. I have know idea what was going on but she came so fast at me she bumped my cart the glasses bumped together and one of the glasses broke. She did not apologize. Just looked at me as if to say.. "Look what you have done" lol
I was heartbroken. After looking for so long to find blue glass and I had to lose one of them. I took the broken glass to the front and told them I would pay for it. I will use in in a mosaic piece.
This is what I have so far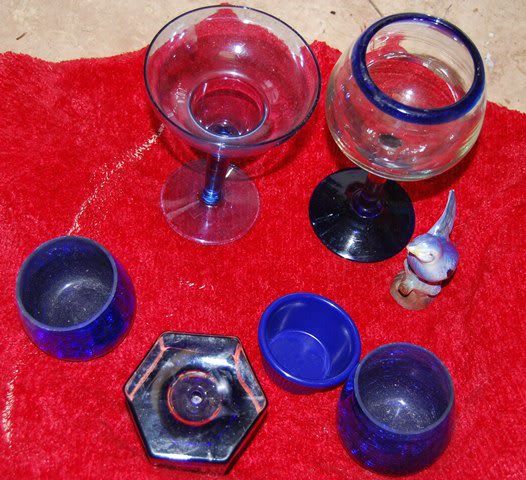 This is a closeup of the one that broke. It is so pretty it has a cracked glass look that really sparkles.
Oh well my hunt will continue for blue glass.