Summer Cart Jumper -- Burgundy Ficus - New to Me
pirate_girl
(Zone7 NYC)
August 29, 2010
Hi Folks,
This interesting Ficus elastica Burgundy recently appeared at my local supermarket & insisted on coming home w/ me. For the first month, it's been fine.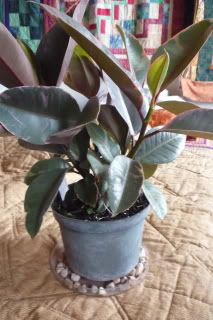 Its Burgundy cast was quite strong, it's not so easy to see in these pix:
It's starting to misbehave a bit, drooping lower leaves, I suspect drainage issues.
Interesting what shows up in Supermarkets from time to time: was $9.99 & only one there, & I felt it was waiting for me.
I may need a consultation w/ Uncle Al. It may be time for me to try that famous gritty mix of his for this Ficus, assuming it could work for me indoors.