Whacked Schefflera, Adventures with Al's Gritty Mix
blankpages
August 18, 2011
Hello all,
A couple of months ago, I took the plunge and whacked this schefflera:
It's done remarkably well since, and I'm really happy with the new growth. My larger variegated schefflera hasn't done as well with the two stems I whacked and I'm wondering if the quality of the soil could be the reason. I had originally reused some old soil when I potted it and it's always had a bit of a greyish tone that bothered me. Because I've been getting ready to move and then in the middle of a move I never got to replace the soil until now. First thing's first. Here's the pic of the single stem scheff after the whack (and in the gritty mix).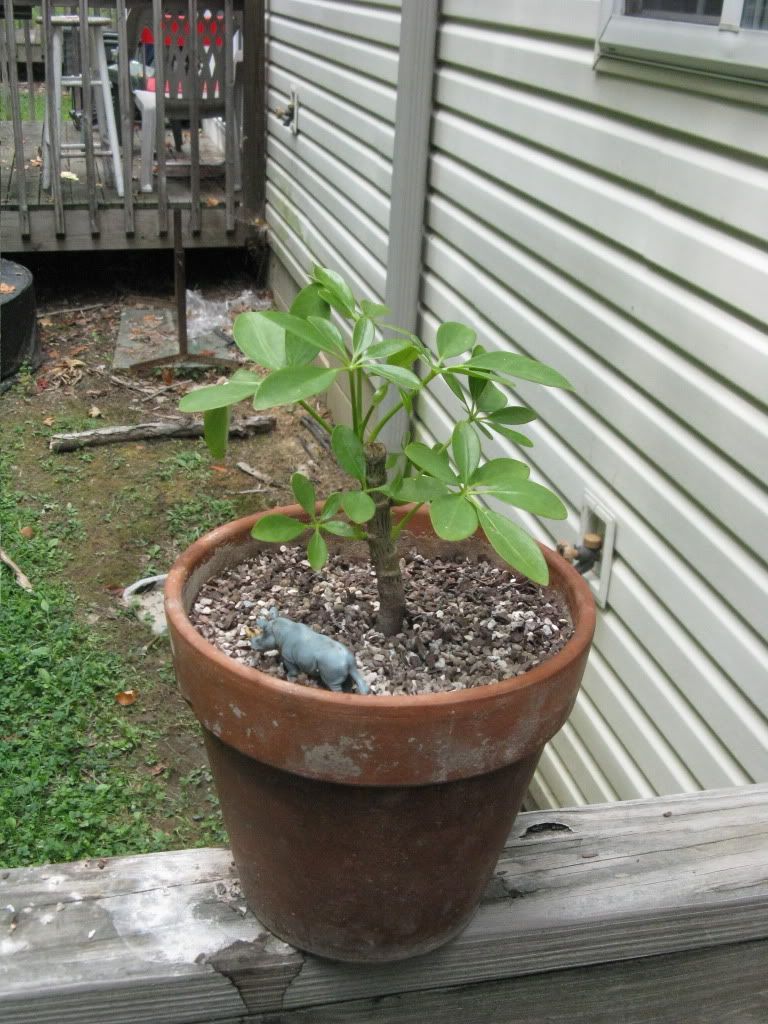 I'm still getting used to the gritty mix. It dried out quickly in this pot relative to a couple of other plants so I'll have to keep an eye on how fast the plants are absorbing water.
I had great fun putting together the mix, even if it involved driving to about 3 different places. I ended up with equal parts of the following ingredients:
1. Gypsum (from my favorite nursery)
2. Napa Floor Dry (Had a harder time finding turface)
3. Crushed Granite (I live about a half mile from a feed store, luckily). I originally got starter which was visibly too small so I took it back for the grower mix.
4. Pine bark.
This was a tad trickier, but only because I made it so. I went to the nursery where I bought the gypsum and explained what I wanted. They pointed me to the larger bark that I would've had to screen. Because I've shopped there before, I bought a bag of bonsai mix, which is basically very small pieces of pine bark with what looks like small pieces of granite. I've really liked this stuff in the past, but the issue is it's price. A gallon bag costs 10 bucks. But because I was so eager to get the mix going, I just went ahead and bought it. I decided to call back and see if they could order the golden trophy brand pine bark fines, only to find out that they did in fact have it. So I bought that.
I have to say, that considering the size of the bags I'm really happy with how economical this mix is. A 50 pound bag of crushed granite was only like 5 or 6 bucks (whereas a pound bag was 4, go figure). Anyway, kudos to Al for keeping things cheap.
Here's my mix. The next mix will use the pine bark fines instead of the bonsai mix.
Let me know if anything looks off. I already used in an few plants it so I'm hoping it's good but I'm definitely open for feedback.
This was fun. I'd been wanting to get my plants in a better medium for a long time!
Cheers,
Jose