My Hydro Hoya's First Blooms
pirate_girl
(Zone7 NYC)
August 29, 2012
Hi Folks,
In my excitement I posted these at Hoyas, but not here.
I thought them particularly worthy of sharing as this is a cutting I took 2 yrs, ago, which I've grown only in water on a west window ever since. Well in early August it bloomed for me, super exciting, felt like a kid on Christmas eve. Here's the night before, after dusk.
Someone had indicated hers blooms right about early August, so she thought mine would too. She was right; this is Hoya kerrii (the sweetheart Hoya w/ the heart shaped leaves).
Those 2 leaves were abnormally shaped, they usually really ARE heart shaped.
Had 2 big cluster balls of bloom like this & then aborted the next 3 peduncles.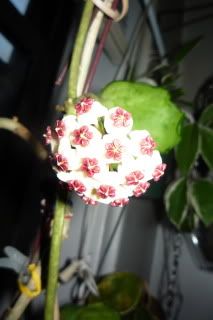 one more shot
Look at all that rigging to hold it up & the yet unopened buds above. Worthwhile experiment in my book.
So the next time you knock a plant over or it falls from the window w/ a huge crash in the night (like this did), make a cutting like I did & hope for the best. You never can tell!!