Black Velvet Alocasia Help
pumapardus
August 31, 2010
Hello All. I am an occasional lurker/poster here, and have always received great help and advice from the very knowledgeable members of the forum! I am wondering if you would be so kind ad to help me out one more time, with a problem I want to be very careful about how I fix.
I have a Black Velvet Alocasia than I adore in my vivarium with a Rhacodactylus ciliatus gecko. It is massive, and I am so proud of it. It was given to me as a gift, and I would be heartbroken if it were to die. Over the past year, I have noticed that it is becoming too tall in the root area- more and more leaves have grown in, lived, and dropped off, and I have trimmed it a couple of times, but never more than 30% of the leaves (one or two at a time).
This picture very well illustrates what I am seeing, and the issue I have been dreading.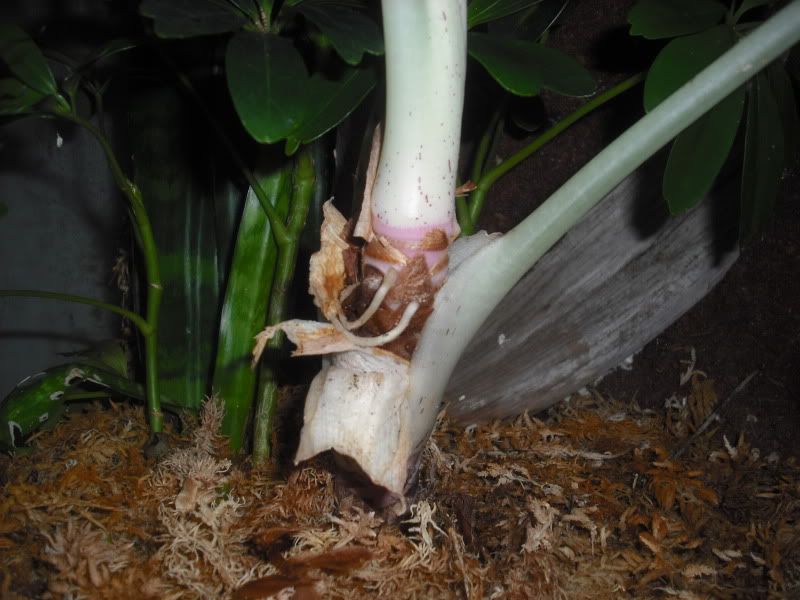 You can see how far above the substrate (sphagnum moss) inches deep, and below that, an inch of hydroton balls for drainage. There is a drainage pipe in the bottom of the whole tank, so it doesn't sit in stagnant water for very long. The plant has already grown through the 6 inches of sphagnum, and is still trying to put out roots higher and higher. It seems that more roots are trying to anchor out of this part of the plant, which is above the substrate. I can't make the substrate much deeper than this, or I risk interfering with the doors of the tank. And the plant is already tucked as low as it can go into the substrate.
I am wondering if I can perform a little surgery on the plant, akin to what Mike Rowe did on Dirty Jobs on Discovery Channel with the Taro plants on the islands of Hawaii. His guide told him that if he cut off the corm of the plant below the apical meristem (where the undifferentiated and therefore still developing cells are), he could plant the top of the plant back into the substrate, and new roots, and a new corm would develop.
I can see a point, a pink line/area on my plant, above where the highest roots are attempting to grow from, and below the actual petoile-analogous parts of the plant (please excuse my unskilled botany terminology. I enjoy botany, but am rusty at plant anatomy!) Would I be able to cut just below this line (the assumed apical meristem, if similarities between this taro-derivative and the actual Taro on the tvshow persist), and expect the plant to be able to grow new roots in a place that would allow me to once again plant it deeper in the substrate and continue to enjoy it?