Cowpeas
Hey folks,
This was our first year of gardening here in Oklahoma and a learning experience indeed. Our soil seems pretty fertile, though there is plenty of rock to remove in order to work it. Heat is both a challenge and a wonderful resource as I see it. We went through about 36 days of triple digit temps, which pretty much put some of my squash down for the count. But some things, like watermelon, okra and sweet potatoes went bananas, producing wonderfully. We had some drought this summer and both tomatoes and beans languished. That is, most beans languished. I planted three varieties of cowpea, all of which Ive grown, on and off, since at least 1995. One, Georgia Long, is a yard long bean. It struggled more than I expected. But perhaps this was due to marginal soil conditions and a late planting.
However, I was super impressed with the other two cowpeas, which are more conventional varieties, in that they are half runners and have pods about 8-9 inches long. I planted these in mid June. Real drought started in July. Yet both varieties flourished. They were so beautiful to see, as the didnÂt seem at all stressed by our conditions.
I planted Penny Rile, and heirloom I received from Harold R. Martin in Hopkinsville, KY, back in 1995. This was an heirloom from his family and I recall him telling me how his family depended heavily upon it during the depression, as it never let them down, producing abundant crops of seed. They would pull the vines and stash them in the barn, threshing them later for food. IÂve grown it in Hidalgo, Mexico, where it did exceedingly well, and now, here in Oklahoma. I planted it alongside a row of corn, a week before it started to tassel. It started out like a bush bean, but later in the season, when the corn was dried down, I noticed that it began to climb (up to about 3 ½ feet). It flowered and set a nice set of pods. I intend to grow this one in more quantity next year, as I can see it as a wonderful thing to plant between the rows of corn, shading the ground and crowding out weeds. On top of this, I tried the pods, for the first time, as snaps. They are good for snaps! So this variety will likely prove a useful, productive variety for snap, shell and dry beans.
Here are a couple of pictures of Penny Rile growing and its seed.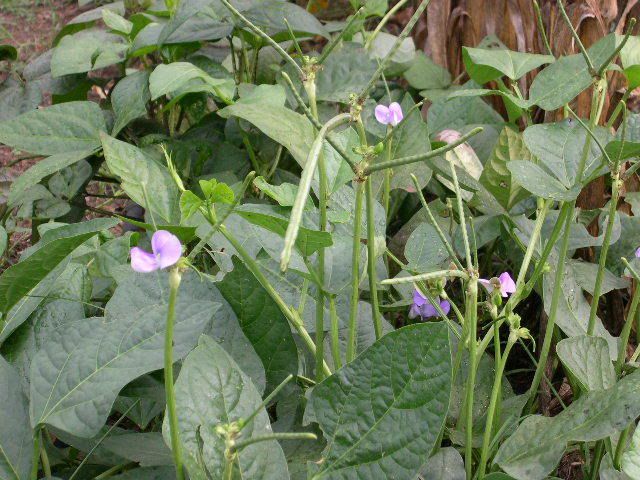 The other variety is actually a landrace mix from a Totonac Indian village in the Mexican state of Puebla. My family and I have eaten these many times, in the form of bean tamales, given to us by friends from this village. They just called them Pintitos (spotted). I introduced the variety to the Seed Savers Exchange, dubbing it Zongozotla Pintitos. "Zongozotla" is the name of the village. They are "spotted" only when the seed mix is altogether in a bowl. Some seeds are white/tan and some are black. Unfortunately, since my seed was older, I harvested a disproportionately high percentage of white/tan seed. Next year IÂll have to work on getting things more in balance. This variety, too, turned out to be suitable for snaps. It seems to sprawl more than Penny Rile. IÂll have to be careful not to get any of these seeds mixed and also, to grow them with a good deal of isolation distance between them. Zongozotla Pintitos needs work before I can reoffer it. But Penny Rile can be purchased at Sandhill Preservation Center. I wonder how many other cowpeas can be used for snaps? Cowpeas have such potential for food, cover crops and soil improvement.
George
Tahlequah, OK