My Completed Plastic Spoon Flowers
souperwoman
(6)
April 1, 2009
I had to do it...I've made 3 so far. I used green spoons to make the leaves so they would be outdoor friendly and waterproof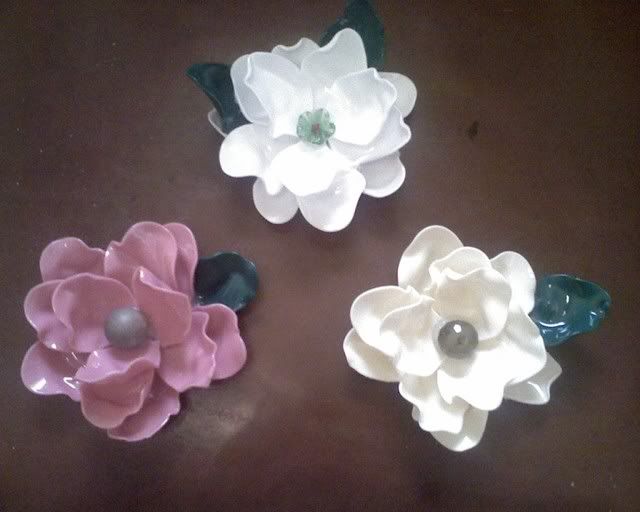 I followed the same basic instructions as the site Kirk linked to, minus using the plastic disc as a base.
I pulled 12 spoons of the same color and heated each one over a candle open side up. When the plastic started to sag, I held the spoon, pulled it, shaped it, and then kept it in place for a few seconds to cool. If it didnt look quite right, i'd reheat and shape differently. Once I did that for all 12 spoons, I used a pair of garden/rose clippers to just snip the handle off of each one. I then took 5 "petals and arranged them in a circle and used a bit of GE Silicone II right where each petal touched each other to hold it together. There will be a hole in the middle but that comes in handy later. After a few minutes, I added a layer of 4 more "petals". I used the leftover spoon handles to prop the petals up so the flower was more 3-dimensional. Then i added the final layer of 3 petals and did the same thing.
Once everything was dry, I attached a big bead to the center of the flower to cover the hole and finish the look. I also took a green spoon and created a leaf the same way i created the petals. If you're making them to sit flat on the table or a project, that would be all you need to do. Because the back side would be covered.
If you want to use them in a way where the back may be seen, then I'd take the extra step and add a stem. I just used the leftover spoon handle (waste not, want not!) and heated it, pulled and twisted it, and held it in place for a moment for it to cool. I also created another green "leaf" to attach to the back of the flower and put a hole through it with a heated x-acto knife so i could slip the stem through it and into the hole between the petals
Finally, VOILA!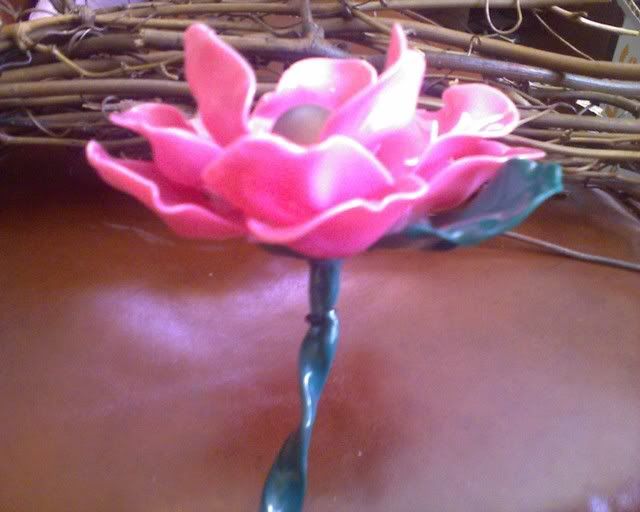 Here is a link that might be useful: My indoor and yard art albums