Tipsy Buckets Project
I was inspired by Cindee's tipsy pots on her blog...I've been rounding up old metal containers to do this project & decided to top it with my Dad's watering can (see link below to Dad's watering can project).
DH helped me by drilling the holes and inserting the metal rod...he asked me a couple times if I "really" wanted to drill holes in this perfectly good bottom pc...I think "ruin it"...were his words (LOL!)... and I said I wasn't ruining it, I was re-cycling it!"
Here's the top:
Here's the bottom: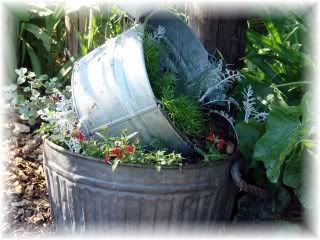 And here's a couple pics of the whole thing:
It's located near my garden shed...along-side a gate under which I've planted dark red Morning Glories to climb the gate. I planted silvery/bluish plants (Blue Fescue, Dusty Miller, Licorice) & Red Verbena and an Asparagus Fern...some are rock garden plants and need good drainage...so I am experimenting this yr. to see what grows good! The Blue Fescue & Snow-in-theSummer Cerastium are perennials...and if they do good, I'll plant in ground in Fall. It definitely looks "TIPSY!"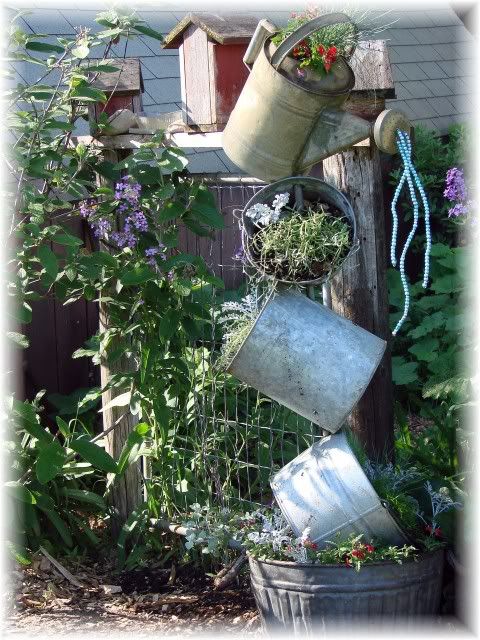 Love all these GJer ideas! TFS, everyone & enjoy! Jeanne S.
Here is a link that might be useful: Watering Can Now 'Retired