Working in My Secret Garden ...need ideas!
Been working in my Secret Garden Log Swing area ... the prairie plants are growing...everything is looking like late Spring/early Summer!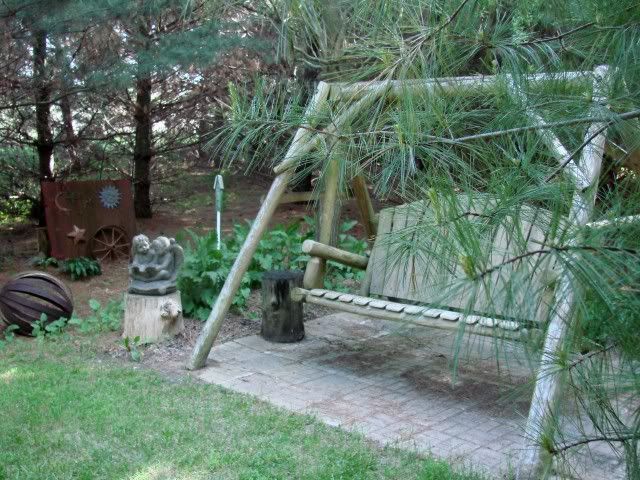 I had transplanted some Hosta's in the Pines ...thought the deer could eat those as they wander thru ...here's path w/whiskey barrel rings made into a 'sphere'...gr'kids just roll it around when they come!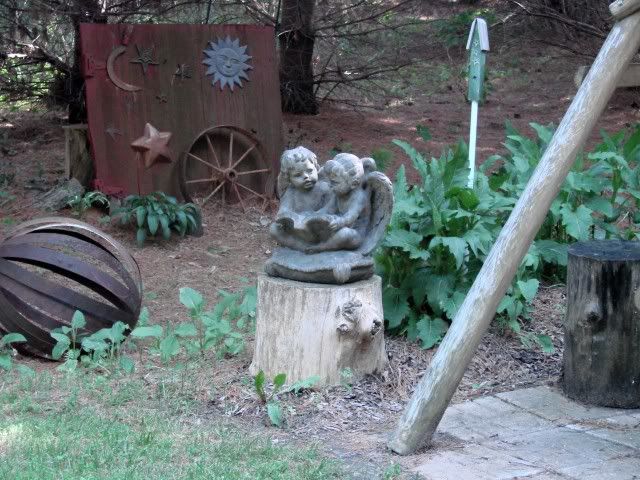 Trying to do a new garden in the Secret Garden...the bit white pines have grown so much that my garden isn't hidden very well...so earlier in the yr (during our nice Winter), my DH & I hooked up the old claw tub & dragged it out there...I've added to it a bit ...Willow easel & frame, a metal thingy, an old log ...now I want to plant something with heighth ...so it will camoflauge better!
Those ferns are getting moved to the ground! I don't want to stack any rock in this area...love the pine needles ...dont' like slinkey creatures that like to hide under rocks! ;-)
Here's the easel...you can see the shutter birdhouse thru the frame: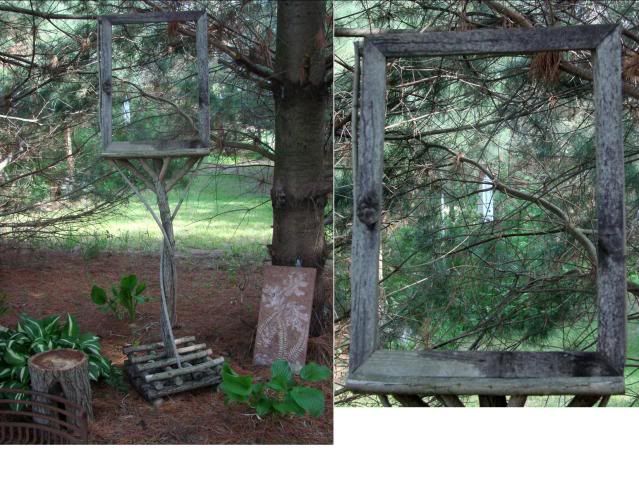 That cement leaf stone I bought from a place last yr on a day trip...I love that guy's works! Also the Hosta's I planted in the Fall here, too...they survived, so far!
I need ideas for easy plantings here that will help camoflauge (so I can't see my house in the distance) now that the White Pines have bare branches down low. Very shady & I have to haul water out here...any ideas, anyone? I'm thinking of a sculpture or see-thru Willow fence or something...what would you do? Thanks! Jeanne S.