Garden Junk Froggies, Dutch Shoes & 'Shroom!
A very warm day here in Iowa (above avg) for a change...so I got to be outside quite awhile & plant flowers/veggies & play w/GJ!
Remember me showing you some great stuff I rec'd from excessfroufrou in the SSanta exchange...well, the cool, metal "froggies" found a home at my barrel pond garden at the corner of the house! Do you like to play the game I SPY?
Well, here they are close-up...aren't they the cutest! I think they were candleholders or something in their former life:
And nearby on the patio, I put those little wooden Dutch shoes that I got for $1 in Feb. DH drilled holes in the bottom of them & I planted some smaller Hen & Chicks...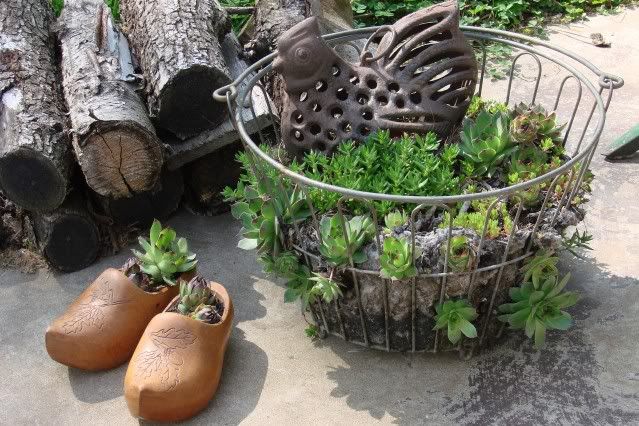 Here's a close-up of the shoes...fun stuff!
And out my porch windows is the big bird waterer garden & porch gardens...I filled these 3 terra cotta pots today w/plants...added my old resin squirrels to the front...they like to hang out in this area! LOL! I use pinecones, bark, pine needles, anything that works ...for mulch:
Thought I'd add a cement 'shroom that made this winter:
Now that warmer weather is here (but cooler coming again)...I will wait to add a pic of the whole bird waterer garden vignette...pretty bare right now. TFLookin'! Jeanne S.