Starlight Garden Stakes
DH & I made these "starlight" garden stakes for our first day of Farmer's Market this season. First of all, we had 10 white metal rails that we had bought for a home project and then didn't use them...so decided to re-cycle. This is the bottom view...bought greenplastic/rubber fence stakes at Menards and cut them in 12" pieces (they stick into the ground)...a 7 ft. stake costs $3.79:
We had scraps of left-over pcs of wood from deck rails... so DH cut roof angle & drilled hole in bottom for metal rails...I painted and drilled a small faux hole to look like a birdhse...drilled tiny hole in those "glow-in-the-dark" stars & used gold nails to attach...and painted with white & then 2 shades of green. DH made roofs out of scrap lumber:
And here's the full view..some ugly winter kill on the bushes in the background: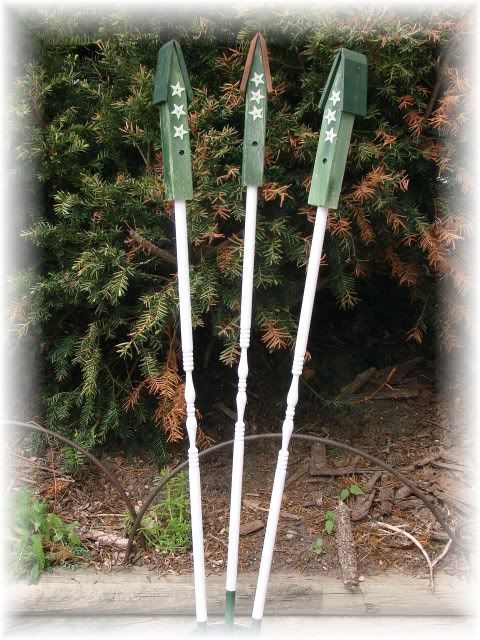 These are standing in a small bucket of sand (for display)but I think just one alone will be cute among my flowers!
As we were making these, I was thinking that these white metal rails were reasonable (on sale) for $1.49 ea...maybe they would make a great "flower stem" for "glass flowers!"...and also the green flexible stakes might be of some use for those of you who make glass flowers.
Just wanted to share.... Jeanne S.