Garden Huckleberry
Hey folks,
I thought Id mention a new crop which we tried this year. I think itÂs a hit. ItÂs called Garden Huckleberry, but itÂs not in the blueberry family at all. ItÂs an annual and itÂs in the night shade family. Garden Huckleberry is relative pest resistant. My only challenge was with blister beetles and errant goats reaching over the garden fence. This plant is started and grown just like peppers, though it is more cold tolerant (even slightly frost tolerant) than either tomatoes or peppers. The plants attained a height of about 3 ½ feet and required no support. They were roughly of the same stature as a large pepper plant. Each plant produces at least enough fruit to make a pie.
IÂve decided not to try blueberries here in our area. The climate and soil are not ideal and it seems that they need to be on artificial life support (drip irrigation, etc.). Also, Garden Huckleberries are grown as an annual. So thereÂs no waiting till the bushes reach maturity. I got mature fruit in 74 days, after a very late transplanting (May 26). I found great pleasure in this plant as it was relatively trouble free and very vigorous, producing fruit right until frost. ItÂs very heat tolerant and needed no irrigation through the hottest, dries part of the summer.
So why isnÂt this plant grown more widely? I believe itÂs because you donÂt just stroll through the garden plucking handfuls of succulent blue berry type fruit and eating them as you go. Eaten fresh out of hand they have slightly more flavor than those artificial (plastic) grapes one sometimes observes on display tables. In order to bring out their flavor one needs to cook them for about 45 minutes adding baking soda, lemon juice and sugar. IÂll include the recipe I got, from Sandhill Preservation Center, below. But once this is done they are so similar to cooked blueberries that IÂm sure you could fool someone who wasnÂt expecting something different. WeÂve had them over ice cream but still havenÂt gotten around to a pie. IÂm sure theyÂll make a good jam. Presently, most of our harvest is frozen awaiting processing.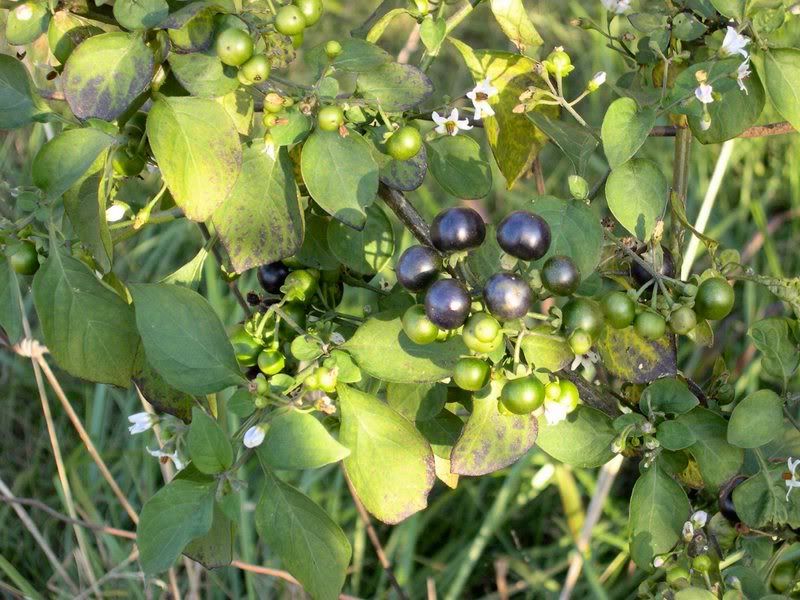 IÂm definitely going to grow this one again. If anyone is interested, seed can be obtained through Sandhill Preservation Center
Place 8 cups of berries in a non-aluminum one gallon size pan and add enough water to not quite cover the fruit. As they begin to boil add a total of 1/3 cup of baking soda (a little at a time) and stir continuously. As you add baking soda, green foam will appear. After adding the baking soda, cook for 10 minutes at a low boil. The mixture will continue to foam quite a bit as the berries are cooking. After they have cooked for 10 minutes, drain this solution off and rinse with clean water. The berries will still be somewhat hard. Next return the pan of berries to the stove, add 1/3 cup water and ½ cup of lemon juice. Watch with amazement as the mixture changes from emerald green to a royal purple color. Cook an additional 35 minutes until the berries are tender and then add 2 ¾ cups of sugar, 1 ½ tablespoons lemon extract, ½ teaspoon salt and ½ cup of tapioca. Pour the above mixture into two 8 inch unbaked pie shells, the add a top crust or lattice and bake as you would a blueberry pie. You can also eat the sauce or use it as an ice cream topping.
George
Tahlequah, OK