Hydro Office Schefflera
pirate_girl
(Zone7 NYC)
October 4, 2013
Hi Folks,
Figured it's high time to share this Hydro experiment. It's my office plant. I'm in open reception area w/no windows. I grow these in cups of water w/ Leca stones. I take them to a small office w/windows to get light on the weekends (I joke they go to their country house for the weekends). Been doing this for about 2 yrs. now.
Recently, I trimmed the roots back a bunch & added fertilizer to the water. Wanted to try & given them a leg up going into Fall.
another view, unwinding these roots to trim 'em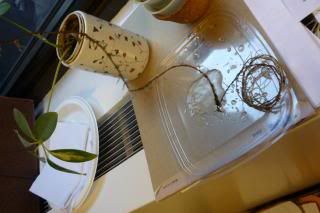 This is mostly roots nesting some Leca stones they've grown around.