New use for an armoire
Don't know how many of you read other forums here, but on the decorating forum there have been several discussions about what to do with those older TV armoires now that everyone is switching to flat screens. Seems you can't give them away. I actually like them and have gotten several for free that I repurpose. I never had one that I used for a TV.
BUT: this lady did something wonderful with one.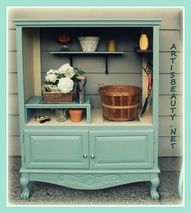 I just picked up another free one today. Wish it had those sexy legs!
Her website is nice too: artisbeauty.net