My first glass bird bath
shadyswing
(z5)
June 25, 2010
I've been in lurk-mode for a few weeks here and I just have to share what an inspiration you all are! Such creativity, from subtle accents to wonderfully whimsical works, has kept me drifting through hosts of posts to where I had to just try my hand at making a piece for my own garden.
So, here it is, my first attempt at a thrift-glass bird bath! It measures 25" tall and consists of 10 pieces of various vases, plates, and such that I found around. I obtained most of the pieces from Goodwill; one piece from the dollar store; and the heavy base I had on hand(recent demise of my microwave). I did buy the 5-buck top from Wally world as I had a difficult time finding a vessel of the depth that I preferred. All in all, I am pleased with how my first piece of "garden junk" turned out and can't wait to set it out in the garden once it's cured.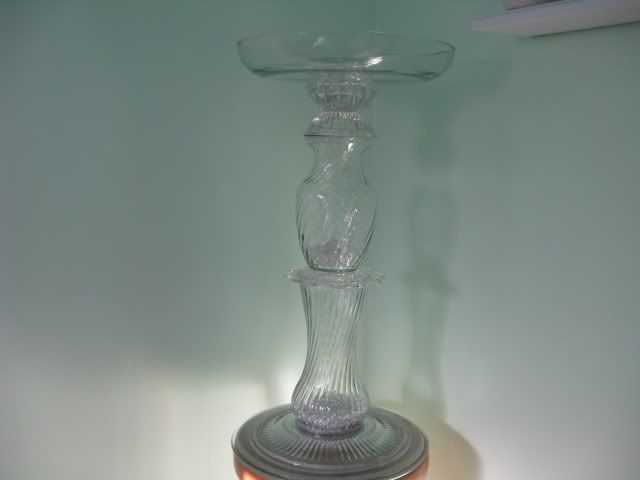 I didn't know if you bird bath creators adhered your tops to the stems or not, so I opted for not, thinking it might be easier to clean out when needed if I could just lift it off. I did however, adhere a small votive candle holder to its bottom (a knob, so to speak) which nestles into the recess of the stem's top piece, for easy centering more than anything. Here's hoping it's heavy enough to stay put should someone's poorly kept cat or thirsty squirrel come by. Anyway, thank you for looking...and for the inspiration!