Garden Junk in my Garden Shed Gardens
jeannespines
June 19, 2012
Been working on garden shed gardens...got some more mulching done & am planting up a couple more galvanized tubs ....
Here's a view of the Tipsy Buckets (from back side) looking out to the Secret Garden in the pines: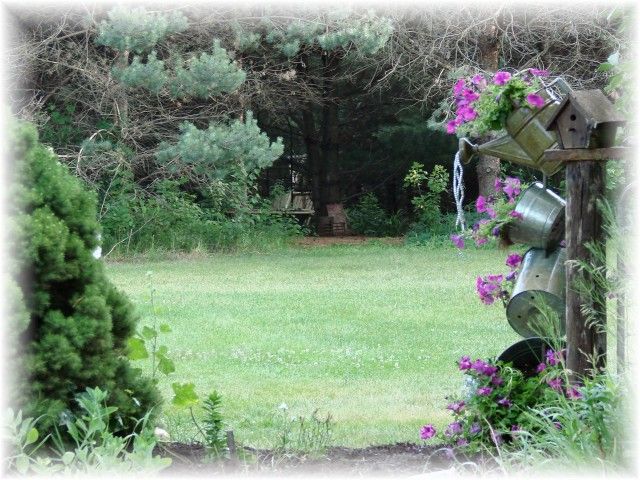 Backside of Tipsy Buckets & gate by garden shed...things are growing!
Along this same side of garden shed...the ol' windmill:
Enamel pan planted w/herbs & another galvanized tub here...picket fence & barnwood birdhse planted to the post that DH & I made this Winter:
Here's that fence...a big Hosta & the old rusted out John Deere toy wagon:
Got that new (old) galvanized tub planted & it's lookin' good...plus the old wheel has Zinna's coming up...now if the bunnies will just not eat them for lunch!
And my Mother's Day gift of Million Bells is doing GREAT this yr! I put it in an old bird bath that I wasn't using anymore & I can turn & move the birdbath easily if need be...so far it's liking this spot of morning & mid-day sun, then shade...I think it's GORGEOUS! & looks so good with that blooming Hydrangea behind it!
Lots of garden junk on my fence, too...pulleys ... & a couple old wheels, old 'tines' for borders...I really like this garden! TFLookin'! Jeanne S. (& we're back to working on the shed itself...hope it's revamped by the end of summer!)