Old Mower Garden like aka-strawberrygoat posted!
jeannespines
June 10, 2010
Here's a couple pics of what you can do with old equipment like the mower that strawberrygoat posted. This has been planted for several years now in a shady spot with hosta's, some wild Solomon seal, Jack-in-the-Pulpit & a couple peonies...in this side view you can see a small pine tree growing & a Red Bud tree (both seedlings when planted in the vignette):
Here's a view from the other side (you can see my painted window faintly in the bkgrd fence line (from my friend for a gift):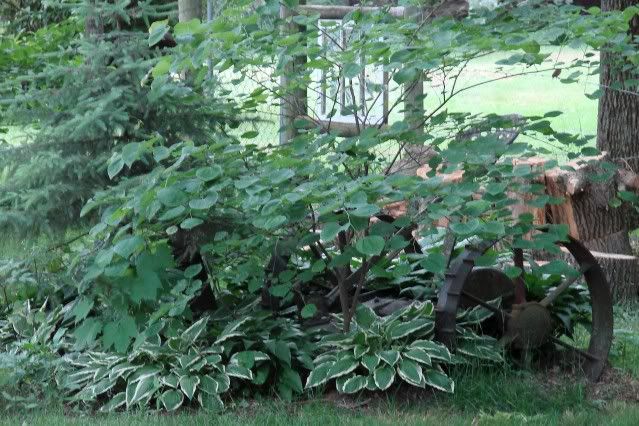 And here's a closer view ...that's an old John Deere planter box down in there...plus a broken vase...some moss grown on the wood tongue...can't see DS's old rusty metal truck anymore...not much left to it! LOL!
This old mower was put to rest many yrs. ago...DH doesn't use it anymore...so it's fun to use in a garden vignette! Thanks for looking. Jeanne S.