Door Arbor Complete!
This door arbor my DH & I completed this week. On Wed. he cut 2x8's for the top rafters...the 2 old doors I salvaged some time ago & they were ready for use! We pushed, pulled, tugged and balanced things to get the rafters on. DH has patience! While he screwed in the brace pieces, I hooked up extension cords and sanded and sanded! The doors were painted white on the outside & stained dark on inside...doors are a bit different...but the hts. were the same. Here's a pic of them balanced on sawhorses and so I paint this coat of white:
Next day gave it another coat & then was ready to move out by that woodshed...too heavy so we pulled it on that scrap pc. of plywood with the 'Gator. Here it is from the backside...set in place:
Then I worked on a few plantings (haul some dirt & compost...amend the soil)...susieroses inspired me to try roses again at bird sanctuary...so this project got the "Knockout Rose" bush(red)...which is supposed to be hardy! I hope so for my sake! No green thumb with roses! It's that little plant in front of the door. Had to dig out Hosta's first..as they had been shaded in this spot where we lost a Jack Pine tree.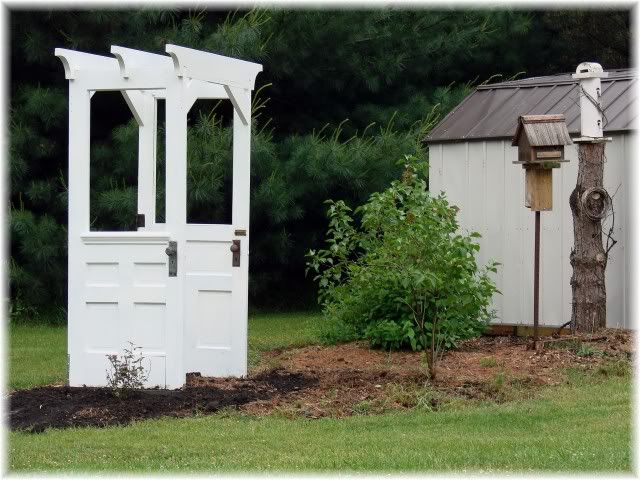 So here's a full view of what's back there now... a re-cycled metal shed (for DH's wood) & old white barn door & now the Door Arbor! I planted "White Queen Cleome" at the other door opposite the rose:
Since today was cold & rainy, DH & I went to a nursery & I picked out a "Sun Parasol Pretty Crimson Mandevilla" bushy plant which will hang from the center rafter. I've never tried this plant before (annual which I will try to save)...it has 3" red flowers...glossy green foilage...should be beautiful! That's a white lilac in front (already bloomed) and an pink-turns-to-red bush behind it...so I'm hoping for a very pretty red & white garden!
Ok, one more thing...lookin' for a metal bench or stool/chair to sit near the arbor...I will paint it white (or red) ... and, if I can't find while GJ'ing...then I will look for some sort of white garden statue/art.
Long post...can you tell I'm excited! A great project...can't take credit...got the idea from a Country Sampler (May 2006) article about a guy who built one for entrance to herb garden...we changed it a bit...he used 2x4's for rafters...and different pane window openings.
Will post pics later as it progresses. Thanks for listening! Jeanne S.
oops, purplemoon, the green stained glass butterfly that you sent on the JT is going to hang in there, too! Whoopee!...