re-do bermuda lawn? - plan review - with pics
Looking to fix my lawn, not sure of the best way...I want a pure bermuda hybrid lawn (if i re-do I'm thinking princess 77).
Here are some pics of the lawn and some close ups: http://imgur.com/a/3tMXL
The problems:
- Different types of grass throughout (I think its mostly bermuda and rye, with st augustine around and some others).
- Weeds spread throughout (see the last image http://imgur.com/a/3tMXL)
Option 1) Attempt to overseed current lawn with princess 77 bermuda seed. I'm not sure this is even an option? I'm guessing I would just mow down to 1/2inch, overseed, dress with thin layer of topsoil. This approach just worries me that the weeds will still be there. I was thinking if I take this approach I would have to manually remove other grass strains, but there is one large patch of rye grass (about 10x10) that has no bermuda so I'd have to kill off that whole area first probably.
Option 2) 'Re-do' . This is what I'm planning to do, and looking for someone to review the plan and answer some confusion I have.
Step 1: Roundup entire lawn
Step 2: Wait 5 days, scalp lawn and roundup again
Step 3: Wait 5 days, scalp anything growing and RU again
Step 4: Wait 5 days then lay topsoil over remaining scalped dead grass (how thick soil layer should I do?)
Step 5: After topsoil should I use a roller and flatten out the topsoil before laying out the seed?
Step 6: Spread seed
Step 7: 1/8 inch layer of topsoil over seed
Step 8: Roller over the soil again
Step 9: Spread starter fertilizer
Step 10: Water 3-4 times daily for a few weeks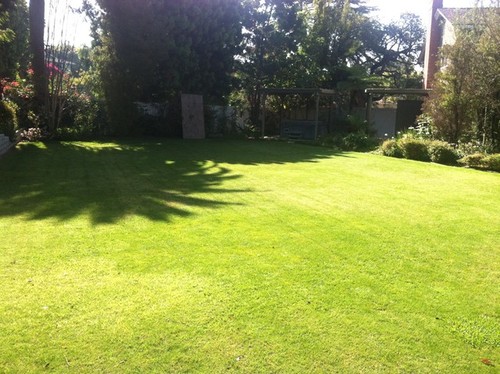 Here is a link that might be useful: More Pictures