Marble Queen Pothos Problems
Kris_1
(9)
November 20, 2011
Hi! I usually have a bit of a black thumb and I'm hoping someone here can help...
The variegation on my marble queen pothos is turning yellow. Only the variegation. The leaves still look mostly healthy I think, the green is still green, but the variegation is the wrong color now on some leaves. One vine has a leaf with the normal white variegation right next to one with yellow.
I grew the plant from a cutting I got from my grandmother, and it's been sitting on a north facing window sill up until recently. The stem on the original cutting would rot instead of growing roots if it was even four feet away from the window... her plant is definitely adapted for bright light. The color change started before I moved the plant, and hasn't changed.
About the same time I noticed the yellow variegation, some of the new leaves were growing out looking like they had been chewed on. The newest leaves now are also curled backwards.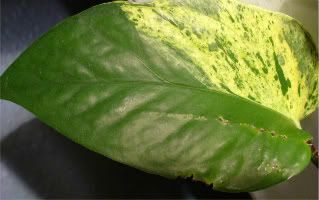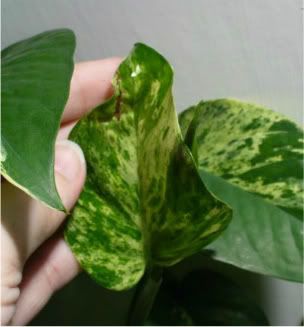 This started about a month or two ago, and nothing's changed in spite of repotting in the last couple weeks. The new soil grew gnats, but that seems to have been dealt with using dish soap and diatomaceous earth. The plant is now in a dim room under a fifty watt grow light instead of in the window, which is getting shutters installed. It seems to be doing okay with the grow light... or at least as okay as it was doing in the window anyway, although the new leaves are a little smaller.
Any ideas about what's going on and how I can fix it? With all the yellow it barely looks like a marble queen anymore.