Sad Schefflera
teapot100
(5)
November 6, 2011
Hello all,
I have a 3.5 year old schefflera that I got from Ikea of all places. After having it's growth stunted by keeping it in the same pot it came in for the first 2 years of its life, I finally got around to repotting it and it grew a little. Then it got some mites or something on it so I moved it outside during the summer and through benign neglect, it thrived out there. We moved at the beginning of the year and since then it's been suffering.
Here are some pix: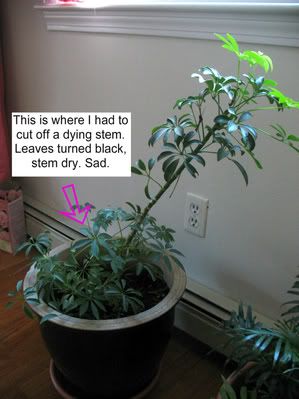 I had to snip off the dying stem, but I don't know if I've snipped off enough. There is one stem left that was growing below the amputated part and I left it on, but some of its leaves are now turning black.
As you can see in this photo, there's mold! I think that's my problem here and so I've held back on the watering.
My questions are:
1) do I need to repot this with new soil and if so, what soil would be best?
2) how much more of the plant should I cut off to save it? Or can it be saved? Will the mold or whatever move to the other main stem now?
Thanks!