Money Tree - Nonstop Yellowing Leaves
Had my money tree for 2.5 years now and was growing healthy and strong. But recently my Money Tree leaves are gradually beginning to yellow from the bottom up since early September
I usually place the plant in direct sunlight in the early morning, and indirect sunlight after 8am for rest of the day before leaving for work. It sits in a southern window. In summer, I water twice every week. Winter, I water every week to two weeks. I live in Northern California. My soil drains well, as every time I water, water would leak out from the bottom in seconds. I fertilize once every 2 months or so, with Mulch layer on top.
Pot depth is about ~6 inches, diameter is ~6 inches. My plant from pot bottom to top is almost 2ft tall.
I re-potted the plant and checked to see if there are any root problems or if soil is too wet, and I didn�t see any problems. The soil is pretty moist half way down, and there are about 4-5 small earthworms on the bottom, not sure if they affect it much. I also checked the leaves and branches for bugs, and found none. I re-pot it into a bigger pot and new manure soil. But the problem still persists 3 weeks later. Any ideas why?
Had the same problem in the past autumn/winter months, but nowhere as severe, but problem was gone once spring time kicked in around early March. Could it just be a seasonal phase?
Several photos of my money tree. Thanks in advance.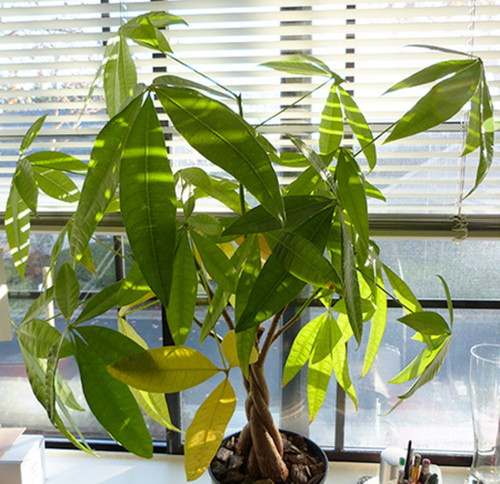 This post was edited by Pachira on Tue, Nov 27, 12 at 23:12