Dracena problem - please help
Hello,
I have an about 5ft tall Dracena (I believe) plant. From afar, it looks pretty healthy. My concern is that out of about 40 leaves on the plant, 7 to 10 have become covered in brown spots over the last week, as seen in the picture. It looks to me like the brown spots on each affected leaf are getting bigger, turning black and are converging, so that I'm afraid the entire leaves will turn black and decay.
The most affected leaves are in one area of the plant, although it appears that the neighboring leaves are getting a few spots as well. There are a still a few leaves on the plant away from the affected area that look really vibrant and are fully green. There are also leaves that do not have spots, but have brown tips at the very end. One leaf in the entire plant also has a small spot that's completely different from the brown ones - the spot is pure white with a halo, and the rest of that leaf is fully green.
I would really appreciate any advise on what steps I could take, if any.
(Note: In the photo below, the spots appear lighter than in reality, perhaps even with a bit of white, due to fluorescent light reflection. They are actually black-brown in color, and there is definitely no white at all.)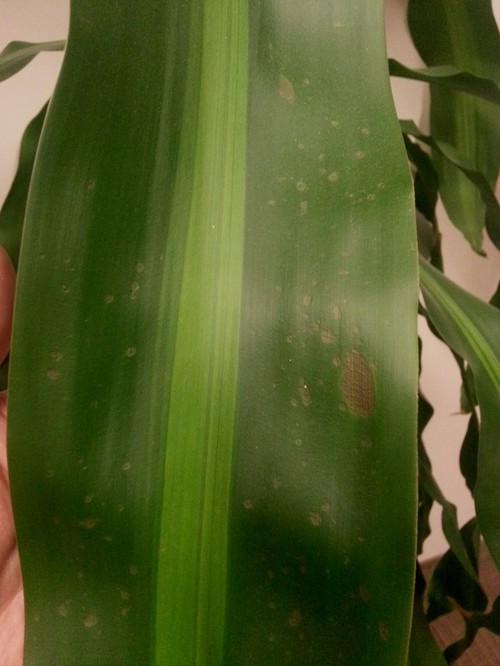 This post was edited by Jason17 on Sun, Dec 1, 13 at 19:31